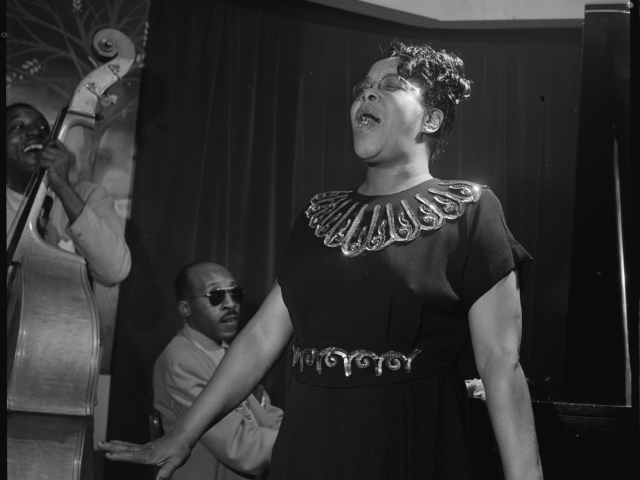 Portrait of Bertha "Chippie" Hill, New York between 1946 and 1948. Image courtesy of William P. Gottlieb/Ira and Lenore S. Gershwin Fund Collection, Music Divison, Library of Congress.
(1905-1950) Bertha "Chippie" Hill was a dancer and vaudeville singer from Charleston, South Carolina. At thirteen, Chippie and her family moved to New York City. In New York, Chippie began her career as a dancer, and in 1919 she began working with singer and actress Ethel Waters. During this time, she also performed with Ma Rainey as part of the Rabbit Foot Minstrels. By the early 1920s, Chippie established her own song and dance routine and toured on the Theatre Owners Booking Association (TOBA) circuit. 
Chippie later relocated to Chicago, where she worked with King Oliver's Jazz Band. In 1925, she recorded "Pratt City Blues," "Low Land Blues," and "Kid Man Blues" with Louis Armstrong and Richard M. Jones for Okeh Records. A year later, the trio recorded "Georgia Man" and "Trouble in Mind." In the late 1920s, Chippie recorded various songs, including "Hard Times Blues," "Christmas Man Blues," and Non-Skid Tread" with musicians Lonnie Johnson, Tampa Red, "Scrapper" Blackwell and the Two Roys, and Leroy Carr. From 1925 to 1929, Chippie recorded 23 titles. 
In the 1930s, Chippie temporarily retired to raise her family, but she staged a comeback in 1946 with Lovie Austin's Blues Serenaders and recorded for Rudi Blesh's Circle label. During this time, she began appearing on radio, performing in clubs and concerts and sang at the Paris Jazz Festival in 1948 while continuing to work with Jazz pianist Art Hodes in Chicago.
Tragically, Chippie Hill died on May 7, 1950, at 45. She was hit by a car in New York.