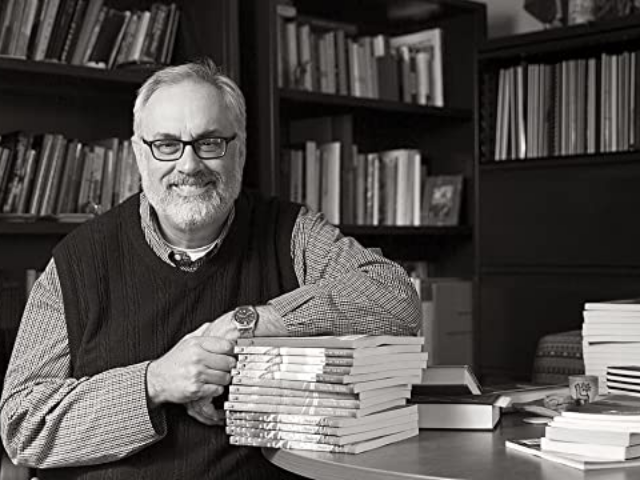 Bret Lott. Image from Goodreads.
(1948- )  Lott was born in Los Angeles, California, to William Sequoia Lott and Barbara Joan Holmes.  Lott earned a B.A. in English from California State University-Long Beach in 1981. His studies were interrupted, however, by a decision to enter the workforce in 1979–1980 as a salesman for RC Cola, a temporary experience that was to hold him in good stead when he wrote his first novel The Man Who Owned Vermont (1987), which recounts the tale of a route salesman for a soft drink company who comes to grips with his personal shortcomings in time to save his shattered marriage.
It was in his senior year as an undergraduate that Lott decided to become a writer, and initially he tried his hand at journalism, working for the Commercial News in Los Angeles. After graduation, he came east to pursue an M.F.A. in creative writing  at the University of Massachusetts.
After a couple of years of teaching at the Ohio State University, he arrived in South Carolina to take up a position as both a writer-in-residence and professor at the College of Charleston, where he has remained to this date except for a three-year-period (2004–2007) when he was affiliated with Louisiana State University as editor of The Southern Review.
By 1999 Lott had an enviable reputation for empathetic characterization and lyrical prose, but his career reached a much higher plateau of critical attention and commercial success when television host Oprah Winfrey selected his novel Jewel for her incredibly influential on-air book club. In this career-making novel, the protagonist and first-person narrator Jewel Hilburn decides to uproot her entire family in the 1940s to find the enlightened medical support that she needs for her youngest offspring, a daughter named Brenda Kay, who is diagnosed with Down Syndrome. The essential plot of the book is based loosely on the real-life story of the author's grandmother, who packed up her six children and moved from Mississippi to California in order to get for her youngest child the help that the "cracker doctors" of her native state could not provide.  Ultimately, Lott is a writer about families. Most often Lott's fictional families are in crisis, coping with the sadness resulting from some loss.
Two books stand out from the rest of Lott's canon, which is composed chiefly of narratives focused on the ordinariness of most people's lives–the familiar everyday challenges that most individuals face, particularly in their relationships with others.
Among the various prizes that Lott has won over the years are three Syndicated Fiction Project Awards from PEN/NEA and a South Carolina Arts Commission Fellowship in Literature. He lives with his wife Melanie in Hanahan, South Carolina; they have two children.