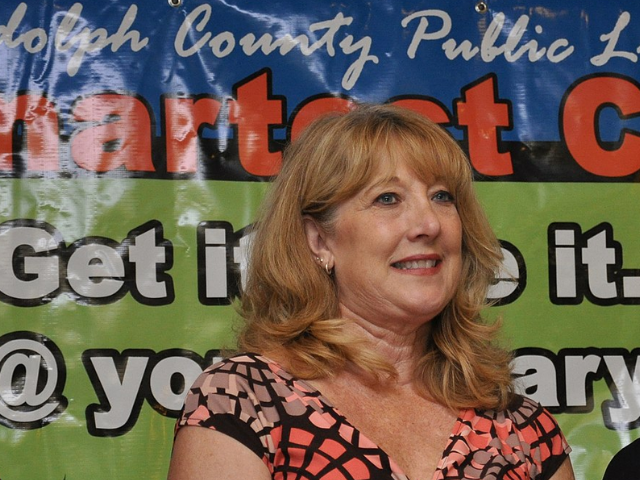 Cathy Smith Bowers at the Smartest Card Kickoff at Asheboro Public Library. September 2010. Wikimedia Commons.
(1949 - )  Cathy Smith Bowers was born in Lancaster, South Carolina, to Edward Sorrel Smith and Mary Helen McManus Smith.  She was educated in the public schools and graduated with a B.A. in English from Winthrop University. She worked as a teacher of high school English in South Carolina for ten years, completing a master's degree in English (also at Winthrop). Her years as a high school English teacher ended when she became an English instructor at Queens University in Charlotte, North Carolina, where she would also serve as director of composition from 1989 to 1995 and Poet-in-Residence from 1996– 2004. Presently she holds faculty positions with the Queens University M.F.A. and Creative Writing Program; Wofford College in Spartanburg, South Carolina; and the Haden Institute in Hendersonville, North Carolina, and Niagara Falls, Canada. Bowers currently lives in Tryon, North Carolina.
Her work reflects a life marked by considerable achievement, both literary and professional, as well as considerable sorrow and has garnered considerable acclaim.  She wond multiple awards including the Poet Laureate of the State of North Carolina.
Bowers is very clear about the force and value of poetry and acutely conscious of its ability to alter the shape of a life. She once stated, "Poetry saved my life. I could have been the poster child for the one least likely to succeed at anything. And yet my life has been blessed because I dared attempt to say the unsayable, to express, in words I did not know I possessed, the inexpressible mysteries of this life."