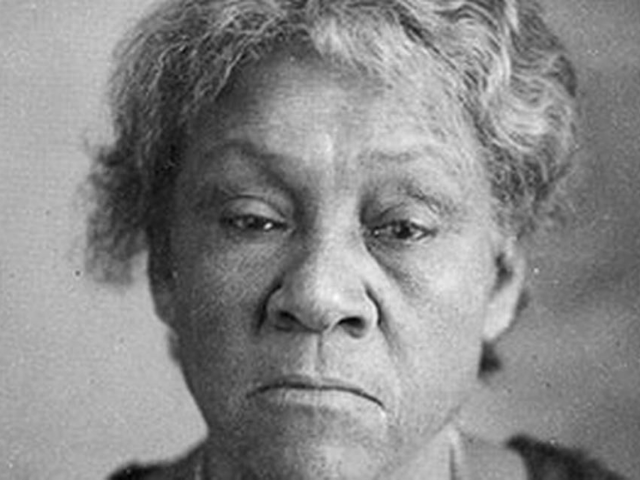 Celia Dial Saxon. Image from The State Media Company.
(1857-1935) Celia Dial Saxon was born in Columbia, South Carolina. Saxon and her family were under the enslavement of Mr. McCullouck, who lived just a block to the west of where the University of South Carolina's Horseshoe is today. When the Civil War ended and enslaved people were freed under the Emancipation Proclamation, Saxon attended the newly established Howard School for black children. On September 1, 1874, the South Carolina State Normal School leased Rutledge College at the University of South Carolina and opened its doors to black women. The school remained open for three years before it was closed following the installation of Wade Hampton III as the governor of South Carolina. On May 31, 1877, Saxon and seven other women graduated from the school.  
In November 1877, Saxon accepted her first teaching position at Howard School, and by 1920 she had joined the faculty of Booker T. Washington School. She taught history and geography during the summers at Benedict College and South Carolina State College in Orangeburg. She also served as the longtime treasurer of the Palmetto State Teachers' Association. The association worked to ensure that segregated schools were as equitable as possible regarding facilities, teacher quality and pay, and term lengths.
Saxon was not only an educator but was also an activist who sought better treatment for her community. In 1909, she co-founded the South Carolina Federation of Colored Women's Clubs. The group went on to establish the Fairwold Industrial Home for Negro Girls in 1917. The institution housed orphaned black girls and taught them how to cook, sew, garden, and do laundry. Saxon then went on to establish the Wilkinson Orphanage for Negro Children. Saxon also served as the committee chairwoman for the Phyllis Wheatley Branch of the Young Women's Christian Association. The committee collaborated with Columbia Public Library to establish The Phyllis Wheatley branch, the city's first library branch available to black patrons. 
On September 12, 1930, 53 years after she started teaching, the formerly all-white Blossom Street Elementary School was renamed the Celia D. Saxon Elementary School in her honor.  
Celia Dial Saxon's legacy continues to live on today. The Phyllis Wheatley branch, now called Richland Library Wheatley, is still an active library branch in the Old Shandon neighborhood of Columbia. In January 2022, the University of South Carolina announced that the residence hall at 700 Lincoln Street will be renamed the Celia Dial Saxon Building, this will be the first building on the University's Columbia campus to be named after an African American.