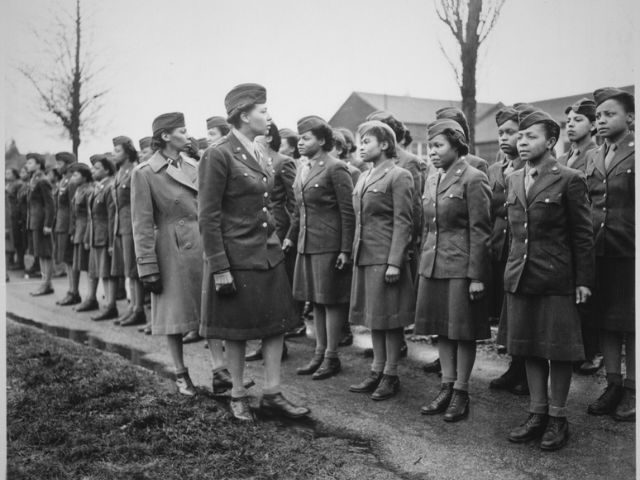 "Somewhere in England, Maj. Charity E. Adams and Capt. Abbie N. Campbell, inspect the first contingent of Negro members of the Women's Amy Corps assigned to overseas service." U.S. National Archives and Records Administration. February 1945. Wikimedia Commons.
(1918-2002) Charity Adams Earley was born in Kitrell, North Carolina to to the Reverend and Mrs. E. A. Adams. Raised in Columbia, Earley attended Waverly School and was valedictorian of her class at Booker T. Washington High School. She received a scholarship to Wilberforce College in Ohio, where she majored in math and physics.
Earley returned to Columbia after college and taught junior high school mathematics and general science while working on a master's degree in vocational psychology. In 1942 she joined the Women's Army Auxiliary Corps (later Women's Army Corps or WACs) and entered the first class of African American female officer candidates. She rose in rank to become the Training Center's control officer. At the end of the war she had achieved the rank of lieutenant colonel and was the highest-ranking black female officer in the WACs.