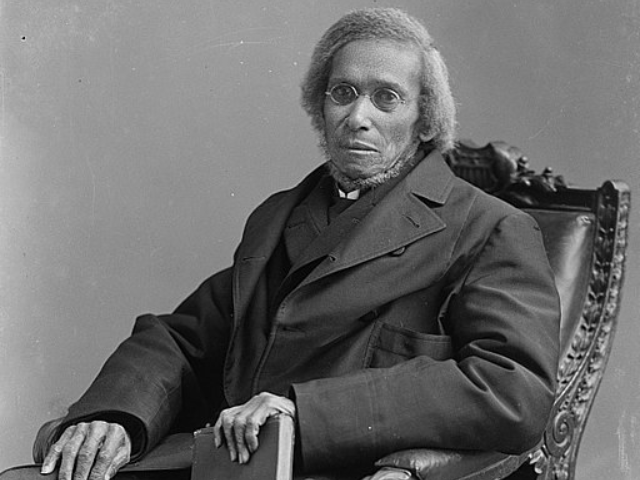 Daniel Alexander Payne. Wikimedia Commons.
(1811-1893) Daniel Alexander Payne was born free in Charleston, South Carolina, on February 24, 1811. His family was part of the "Brown Elite" of free Black people who lived in Charleston. In 1829 at the age of 18, he opened his first school in Charleston. Due to the fears of the Nat Turner Rebellion of 1831, several states passed legislation further restricting the rights and movement of free people of color and slaves. The states also enacted a law that prohibited teaching literacy to free people of color and slaves. With this new law, Payne had to close his school. He used this time to travel to Philadelphia in search of further education. In Gettysburg, Pennsylvania, he continued his studies at Lutheran Theological Seminary and was the first man of color to be ordained in 1835 by the General Synod of the Evangelical Lutheran Church of the United States of America. 
In 1840, Payne started another school and joined the African Methodist Episcopal Church. During this time, Payne worked to improve the position of Black people within the United States, and he opposed calls for their emigration from North America and resettlement to the proposed new nation of Liberia, which had strong support among many white abolitionists. Payne also started improving the education for AME ministers, recommending a variety of classes, including grammar, geography, literature, arithmetic, and other academic subjects, so they could effectively lead the people. In 1848, Payne was named the historiographer of the AME Church, and in 1852 he was elected and consecrated as the sixth bishop of the AME denomination. 
As a bishop, Payne served on the founding board of directors who later purchased Wilberforce University in Wilberforce, Ohio, in 1856. Wilberforce University provided collegiate education to African Americans, and it was the first historically black college in which African Americans were part of the founding. The outbreak of the Civil War halted the school's performance, but Payne persuaded fellow AME ministers and lay members to reinvest in the school. With the help of generous donations, the school was up and running, and Payne led the college until 1877.
After the Civil War, Payne returned to the south, and in 1881, he founded the Bethel Literary and Historical Society in Washington, D.C.