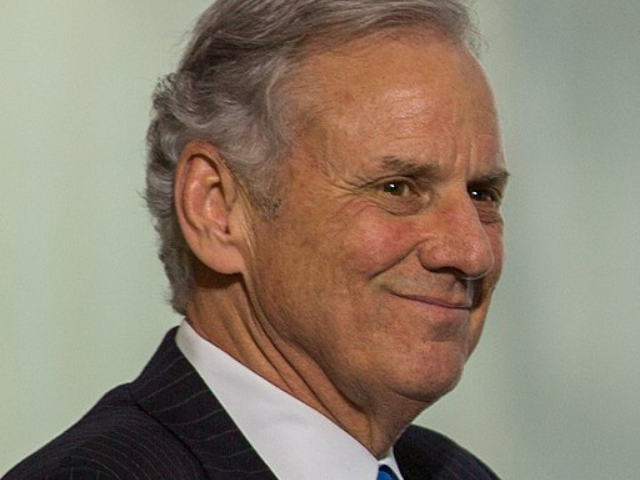 Henry McMaster, Governor of South Carolina. Photo taken by Ryan Johnson. Wikimedia Commons.
(1947- )  Henry McMaster was born Columbia, South Carolina. He received a bachelor's degree in history from the University of South Carolina in 1969 and in 1973 from the University of South Carolina School of Law.  He also served in the U.S. Army Reserves, receiving an honorable discharge in 1975.
Upon graduation from law school, he was a legislative assistant to U.S. Senator Strom Thurmond in Washington, D.C., and joined the law firm of Tompkins and McMaster. He was later admitted to practice before the U.S. District Court, U.S. Court of Claims, the U.S. Court of Appeals for the Fourth Circuit, and the Supreme Court of the United States. Governor McMaster practiced law for over 40 years, as a federal and state prosecutor and in private practice in both state and federal courts.
In 1991, he was appointed to the state Commission on Higher Education and joined the Board of Directors of the nonprofit South Carolina Policy Council. He chaired the state Republican Party from 1993 to 2002 and was elected attorney general of South Carolina in 2002 and reelected in 2006.  As attorney general, McMaster made prosecution of criminal domestic violence a priority and led a crackdown on child internet predators. He extended the South Carolina grand jury's jurisdiction to environmental and gang crimes and broadened its authority to include securities crimes.
He was elected lieutenant governor in 2014 and led efforts to protect our state's growing senior citizen population with social, economic, and health support services.  McMaster was sworn in as governor in January 2017 following then - Governor Nikki Haley's appointment as United States Ambassador to the United Nations and was elected to a full term as governor in November 2018.
McMaster has led a strong and vibrant South Carolina economy.  The state has made transformative investments in the classroom by expanding full day four-year-old kindergarten, raising K-12 teacher pay, and placing a school resource officer in every school. Colleges and universities are becoming more accessible and affordable due to the governor's tuition freeze and by his doubling of funding for needs-based financial aid for in-state students.  He has cut taxes on our state's small businesses and has returned over $67 million dollars to the taxpayers. The governor has kept the commitment to the state's military veterans, first responders, law enforcement, firefighters, and peace officers – through pay increases, retention bonuses, and exemptions on retirement income exemption.  The governor's limited, measured, and temporary COVID-19 actions – coupled with freezing all new state government spending during the pandemic – allowed South Carolina's economy not only to survive, but to actually thrive and generate record surpluses.
Governor McMaster and his wife, Peggy, have two adult children and reside in Columbia.