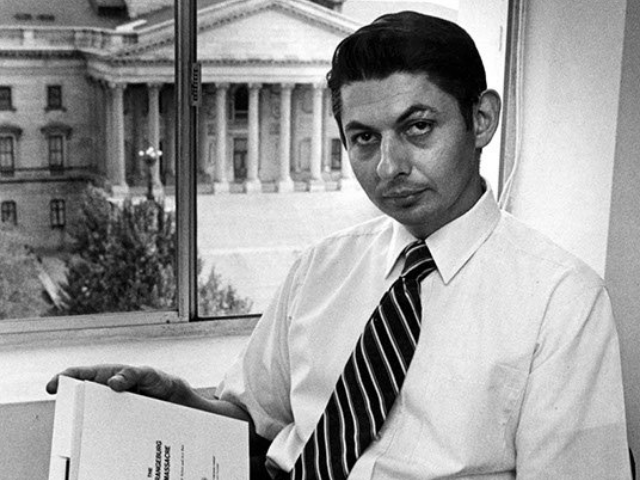 Jack Bass. Image from S.C. Press Association
(1934- )  Bass was born in Columbia, South Carolina to Nathan and Esther (Cohen) Bass. Bass became the sixth member of his family to attend the University of South Carolina in Columbia, where he received his Bachelor of Arts in 1956. In 1957 Bass married his first wife Carolyn McClung. After graduation he served for three and a half years as a naval flight officer, stationed primarily in San Diego. In 1960 Bass returned to Charleston, taking a position with the Charleston News and Courier where his journalistic focus switched from sports to politics.
In 1961 Bass moved back to Columbia, working for the Columbia Record before moving to the State as part of their governmental affairs staff. While in that position, Bass became interested in the changing politics of the South in connection with the civil rights movement, a major theme in his writing. In 1966, Bass accepted a position as Columbia Bureau chief for the Charlotte Observer. Bass reported on the tragedy of the Orangeburg Massacre as it unfolded on the campus of South Carolina State College on February 8, 1968. Bass's coverage of the massacre led to the publication of The Orangeburg Massacre, an account of the event unveiling governmental cover-ups and highlighting journalistic misinformation. 
From 1967–71 Bass entered the academic field as a part-time lecturer in journalism at the University of South Carolina and began work on his second book, Porgy Comes Home: South Carolina after Three Hundred Years, which details the history of South Carolina from settlement through the civil rights era. From 1975 to 1978 Jack Bass served as writer-in-residence and research scholar at South Carolina State College in Orangeburg, South Carolina, while concurrently completing his Masters of Arts in journalism at the University of South Carolina. 
In 1994 Bass married South Carolina author and television personality Nathalie Dupree. Bass completed his doctorate in American studies from Emory University. His dissertation, A Biography of Strom Thurmond, served as the basis for his biofraphy entitled Ol' Strom: An Unauthorized Biography of Strom Thurmond, published in 1998  and quickly became the definitive text on the controversial southern senator.  After Strom Thurmond's death in 2003, he published a second book on Thurmond entitled Strom: The Complicated Personal and Political Life of Strom Thurmond.
Since 2009 Bass has published several more books about the unique political and cultural history of South Carolina and the effects that the state's past has had on its modern identity and culture and a discussion of constitutional law, focusing on the Supreme Court's interpretation of the fourteenth amendment. In 2013 the South Carolina Academy of Authors inducted Bass in recognition of his distinguished contributions to South Carolina's literary legacy.