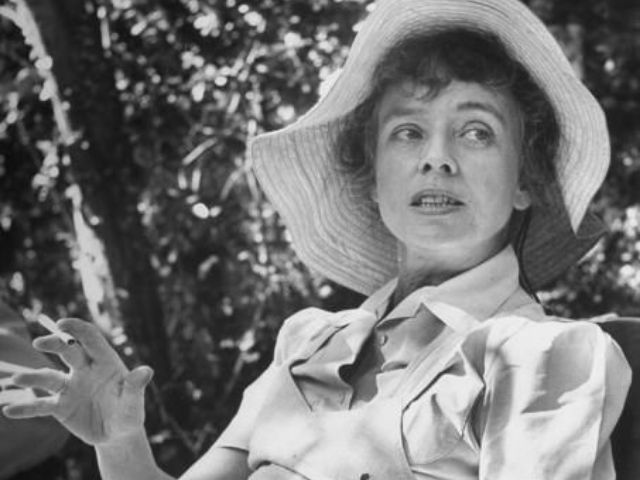 Josephine Pinckney. Wikimedia Commons.
(1895-1957)  Josephine Pinckney was born in Charleston into a family long prominent in the state's history.  Her parents were Thomas Pinckney and Camilla Scott. In 1912 she graduated from Ashley Hall School, where she helped establish a literary magazine, and later attended the College of Charleston, Radcliffe College, and Columbia University. She received an honorary degree from the College of Charleston and was named an honorary member of the William and Mary Chapter of Phi Beta Kappa in 1934. She received numerous honors for her writing, including the Southern Authors Award in 1946.
She worked closely with DuBose Heyward, Hervey Allen, and John Bennett in founding the Poetry Society of South Carolina in 1920. During the following decade, Pinckney emerged as a poet of national reputation when her work, often evocative eulogies to a vanishing way of southern life, appeared in influential journals such as the Saturday Review of Literature and Poetry, as well as in numerous anthologies. Her only book of poems, Sea-Drinking Cities (1927), received praise from Donald Davidson for "a luxuriance of phrase, a quiet humor controlling deep emotion."
Pinckney participated in other aspects of the Charleston Renaissance through her dedicated involvement in local cultural institutions, such as the Carolina Art Association, the Charleston Museum, and Dock Street Theatre. Active in the Society for the Preservation of Spirituals, Pinckney helped with the transcriptions and musical annotations for the African American songs included in The Carolina Lowcountry. She also worked quietly behind the scenes of the historic preservation movement in Charleston and was posthumously honored by the American Scenic and Historic Preservation Society for the manner in which she helped to restore the city's neighborhoods and notable buildings.
During the 1930s Pinckney embraced a modernist sensibility and turned her writing talents to prose. The Virginia Quarterly Review published her two short stories "They Shall Return as Strangers" (1934) and "The Marchant of London and the Treacherous Don" (1936). Her essay "Bulwarks against Change," which appeared in Culture in the South, edited by W. T. Couch (1934), remains an insightful commentary on the evolving South. In 1941 Pinckney published her first novel, Hilton Head, followed by the best-selling social comedy Three O'Clock Dinner (1945), which made her one of America's best-known women fiction writers. Her third novel, Great Mischief (1948), a Book-of-the-Month Club selection, was followed by My Son and Foe (1952) and Splendid in Ashes (1958). 
Pinckney traveled widely, but maintained a home in Charleston and her family plantation. Josephine Pinckney was buried in Magnolia Cemetery, Charleston. In 1988, she was posthumously inducted into the South Carolina Academy of Authors.