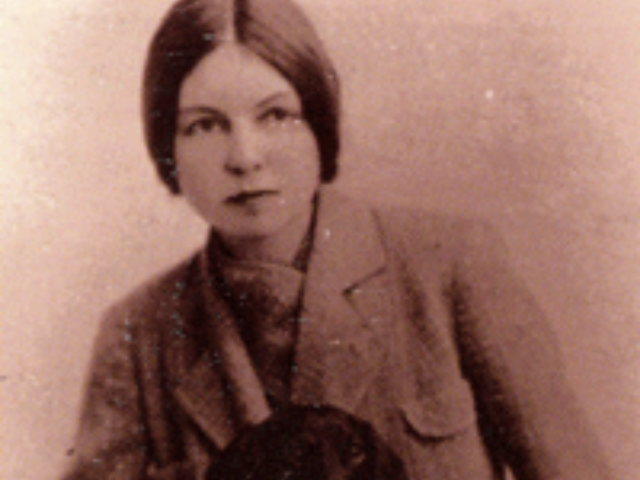 Katharine Ball Ripley. Image uploaded by Find a Grave user Bill McKern.
Katharine "Kattie" Ball Ripley, the daughter of William Watts Ball and Fay Witte, was born in Charleston, SC. Kattie attended Chatham Episcopal Institute (Virginia), where in 1914 she saw her work published in the school's student literary journal. She met her future husband, Clem, when he was stationed as an army officer during World War I at Camp Jackson, near Columbia. They were married in 1919. Their son, William Y. "Warren" Ripley, was born in 1921.
In the early 1920s Kattie and Clem invested in a hundred acres in the sandhills of North Carolina, where for seven years they tried their hands at peach farming (the subject of her first book, Sand in My Shoes, 1931). In 1932 the Atlantic Monthly published three of Kattie's stories. Her second book, Sand Dollars (1933), was a memoir written out of the experience of the stock market crash. 
Katharine and Clem are buried in Magnolia Cemetery. In 1990 Warren Ripley published a paperback selection of his parents' short fiction entitled Cities of Fear and Other Adventure Stories. Five years later Down Home Press published a paperback edition of Kattie's first nonfiction book, Sand in My Shoes, as one in its Carolina Classics series.