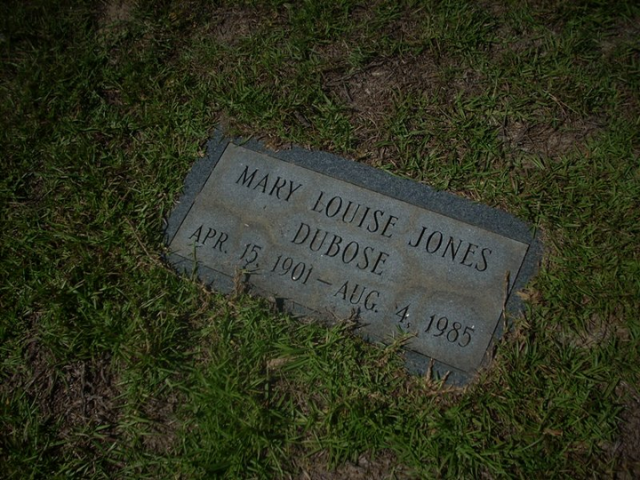 Louise Jones DuBose's grave stone. Image added by Ricky D. Find a Grave.
(1901-1985)  Louise Jones DuBose was born near Columbus, Georgia, to Reverend Frank Dudley Jones and Catherine Wyman. Her father's university teaching– he taught history, psychology, and philosophy–inspired DuBose to pursue her own scholarly interests.  She attended Agnes Scott College in Decatur, Georgia, and Chicora College for Women in Columbia, South Carolina, for a short period. In 1918 she began work with the State newspaper in Columbia and attended the University of South Carolina where she received her bachelor's degree in 1920.
After graduation, DuBose moved to Columbus, Georgia. She worked for the Columbus, Georgia Inquirer under her often-used penname Nancy Telfair, writing on everything from national news events to society happenings. She occasionally worked as a sports reporter as well, becoming the first woman in Georgia to report on a professional prize fight.
DuBose returned to South Carolina in 1931, receiving her M.A. in psychology from the University of South Carolina. After graduation, she taught history at USC and served briefly on the faculty of the Naval Flight Preparatory School as an instructor of mathematics and navigation.
In 1934 she began work as assistant state director of the South Carolina Writers' Project. Part of the larger Federal Writers' Project, a program designed in 1935 as part of the U.S. Works Progress Administration, the South Carolina Writers' Project initially had a single goal in mind: to create a detailed guide to the state and its major cities. DuBose worked heavily on the South Carolina Guidebook. The guidebook itself was a collection of nineteen essays on the culture and history of South Carolina, and DuBose's writing is thought to comprise the bulk of the collection. 
Dubose retired from the University of South Carolina Press and academia in 1966, but she remained busy with various clubs and philanthropic organizations.
DuBose was posthumously inducted into the South Carolina Academy of Authors in 2001 in recognition of her many literary accomplishments.