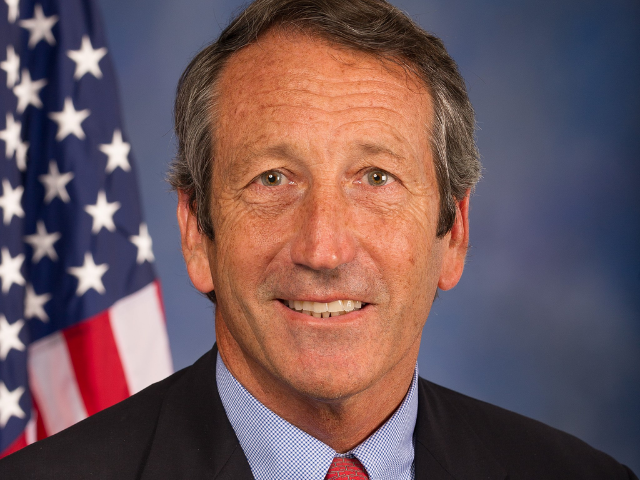 U.S. Congressman Mark Sanford (R-SC). 2013. Wikimedia Commons.
(1960 - )  Mark Sanford was born in Fort Lauderdale, Florida, to Marshall and Margaret Sanford.  The family moved to Beaufort in 1978.  Sanford earned a business degree in 1983 from Furman University and worked for real estate firms in Charleston until he attended the University of Virginia, graduating with a master's degree in 1988. He met his future wife, Jennifer Sullivan, while participating in a summer training program at Goldman Sachs in New York City.  After two years working in New York, Sanford returned to South Carolina and established a leasing and brokerage company in Charleston.
Sanford, a Republican, was elected to Congress in 1994 with the promise that he would serve only three terms. He became known as a fiscal conservative and voted against bills that would provide funding for his district. Notoriously frugal, Sanford slept in his office, showered at the gym, and gave back $250,000 from his office allowance to the federal government each year. He ended his service after three terms as promised.
In 2002 Sanford was elected governor. Sanford set up panels to review government operations, one of which streamlined operations at the Department of Motor Vehicles. Sanford billed himself as an "outsider," and the Republican-controlled General Assembly treated him as such. When he vetoed numerous provisions in the 2004 state budget, the General Assembly overrode the vetoes easily and without much discussion. Sanford in turn brought pigs to the State House to criticize what he called the legislature's "pork barrel" spending.
Sanford easily won reelection, but his relationship with the General Assembly deteriorated further. His second term was rocked by scandal when he left the state unannounced for a tryst with his Argentine "soul mate." He was confronted on his return, and his televised confessions and the surrounding publicity about his so-called hiking the Appalachian Trail became something of a national soap opera and his national political reputation lay in shambles.
Just two years after he left office in disgrace, Sanford resurrected his political career. In the spring of 2013, there was a special election for his old congressional seat. He  won the GOP nomination and continued his winning streak, still never having lost an election.