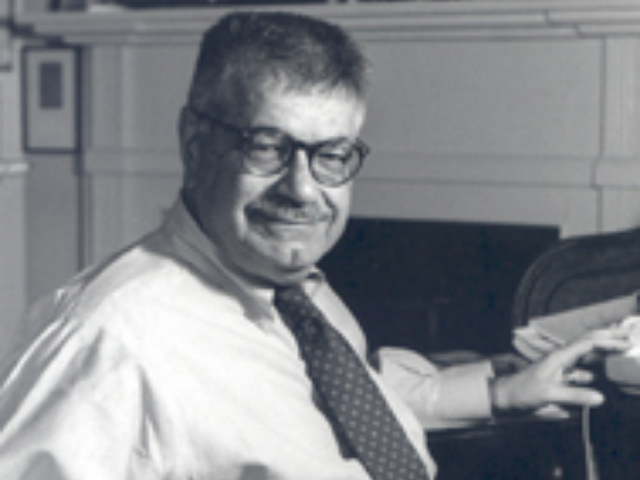 Matthew J. Bruccoli, 1931-2008. Image from Mark My Words blog.
(1931-2008)  Bruccoli was born in the Bronx, New York.  He earned a bachelor's degree at Yale University in 1953, University of Virginia for his master's degree (1956) and doctorate (1960). Bruccoli taught at the Ohio State University before joining the faculty at the University of South Carolina. There he remained from 1969–2005, retiring as the Emily Brown Jefferies Distinguished Professor of English. 
Bruccoli's knowledge of the works of F. Scott Fitzgerald is known around the world. Eventually, he was to write a dozen books on Fitzgerald and his work. Bruccoli's long-term commitment to Fitzgerald's legacy culminated in 1994 when, with the encouragement of his wife Arlyn and help from Fitzgerald's daughter Scottie, he established the Fitzgerald collection housed at the Thomas Cooper Library of the University of South Carolina in Columbia. Today that collection includes books, proofs, letters, inscriptions, photos, memorabilia, screenplays, and paintings about and by both Fitzgerald and his wife Zelda.
Bruccoli also dauntlessly wrote and edited dozens of other books and worked steadfastly at editing various series.  Bruccoli was also the author of books about or the editor of works by Raymond Chandler, Ernest Hemingway, John O'Hara, and Thomas Wolfe.
Matthew J. Bruccoli came to be trusted and honored. Among his many achievements were receipt of the Thomas Cooper Medal of the University of South Carolina (1999); invited lectureships in Italy (1996), Norway (1999), and at Illinois State University (1997 and 1998); and induction into the South Carolina Academy of Authors (2001).