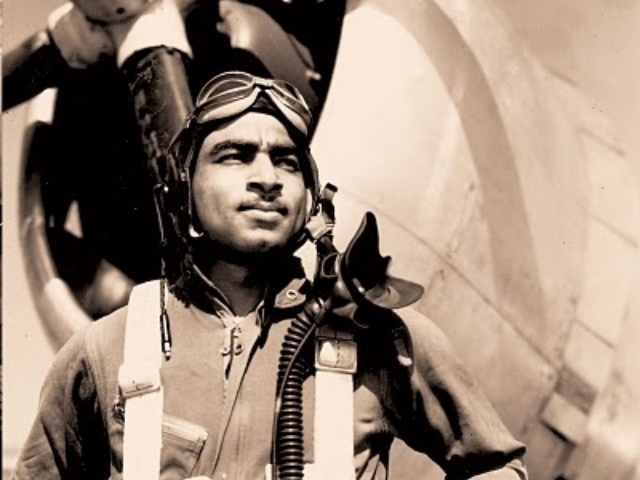 Spann Watson at Lockbourne Air Force Base near Columbus, Ohio (now known as Rickenbacker Airport) during the late 1940s. Image uploaded to Wikimedia Commons by Brian M. Watson.
(1916-2010)  Watson was born near rural Johnston, South Carolina,to Sherman and Leona Holt Watson. When Watson was 10 years old, his family moved to Lodi, New Jersey. A frequent visitor to the nearby Teterboro Airport, Watson watched Charles A. Lindbergh fly the Spirit of St. Louis on July 4, 1927. This historic event had a lasting impact and inspired Watson to pursue an aviation career.  He attended Howard University and studied mechanical engineering.  He also and began his aviation training in the original College Pilot Training Program.  He continued under the same program at Tuskegee Institute in Alabama and joined the U.S. Army Air Corps as a flying cadet. Watson was one of eight pilots who successfully fought the German elite Luftwaffe over the Mediterranean Sea in World War II, marking the first time African-American pilots fought in air combat.
Watson played a key role in developing an integration plan for the Armed Forces.  He retired as a Colonel after a 23-year military career and joined the Federal Aviation Administration.  
Watson and his wife Edna were married in 1943 and had five children.  He is buried in Arlington Cemetery.