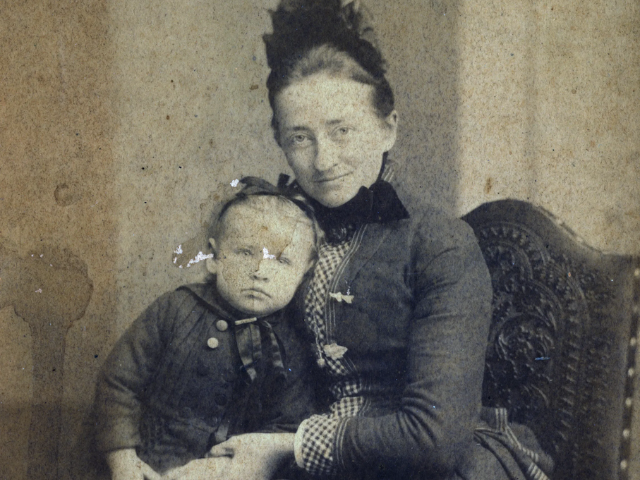 Abbie Homes Christensen seated with small child on her lap. Image from Beaufort Lifestyle.
(1852-1938)  Christensen was born in Westborough, Massachusetts, to Reuben G. Holmes and Rebecca Winch. In 1864 her abolitionist family moved to Beaufort, South Carolina, where her mother became a teacher in a school for freed people and her father engaged in business and was elected to the 1868 constitutional convention. Christensen taught in a Beaufort County public school from 1870 to 1872. She attended Mount Holyoke Female Seminary in South Hadley, Massachusetts, from 1872 to 1874.
A pioneer in the field of African American folklore, Christensen published her first story, "De Wolf, de Rabbit an' de Tar Baby," in 1874. Her career as a collector of Gullah folklore culminated in her book Afro-American Folk Lore as Told 'Round Cabin Fires on the Sea Islands of South Carolina (1892). Returning to Beaufort, she married Niels Christensen, a Danish immigrant and former captain of U.S. Colored Troops. Niels Christensen became a successful real estate, hardware, and lumber merchant. The couple had six children.
Abbie Christensen became a woman suffragist in 1891, as a founding member of the South Carolina Equal Rights Association. In 1902 Christensen used the profits from the sale of Afro-American Folk Lore to begin the Port Royal Agricultural School, a boarding and day school for African American children, located in the rural Beaufort County area known as Burton. In Beaufort, Christensen joined several white women's clubs and played a leading role in conservation and urban landscaping efforts spearheaded by the Civic League. In 1917 Christensen became one of the first educators in the nation to found a Montessori School, which she operated in her home in Beaufort. She returned to the cause of woman suffrage, founding the South Carolina Equal Suffrage League in Spartanburg in 1914 together with her daughter Andrea Christensen Patterson and other South Carolina clubwomen. She also received assistance from her son, Niels Christensen, Jr., the publisher and editor of the Beaufort Gazette and a state senator, who introduced an unsuccessful S.C. Senate resolution to ratify the Nineteenth Amendment in 1920.
Abbie Christensen was a progressive force for women's rights, black and white education, racial tolerance, and social welfare in South Carolina from the 1890s until her death. In 1931 she joined the Association of Southern Women for the Prevention of Lynching. Christensen died in Greenville and was buried at Beaufort Baptist Church.