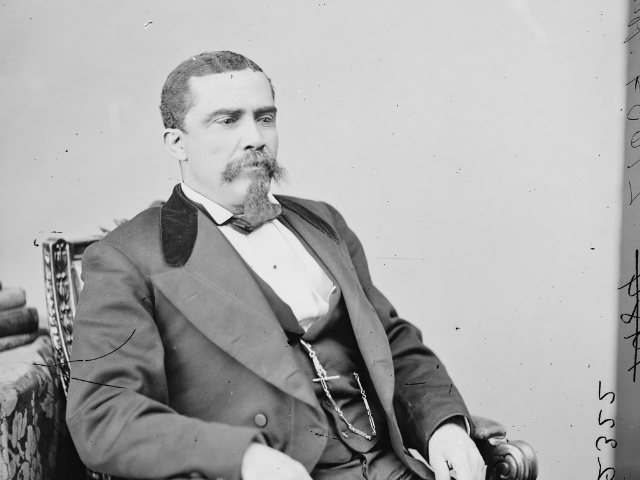 Hon. Alonzo J. Ransier. Library of Congress Prints and Photographs Division.
(1834-1882)  Ransier was born free in Charleston to parents who may have been immigrants from Haiti. He acquired the equivalent of a common school education and worked as a clerk at a Charleston shipping firm prior to the Civil War.
Ransier attended the 1865 Colored People's Convention at Charleston's Zion Presbyterian Church, a gathering of freedmen held in order to "advance the interests of our people." He spoke in defense of the competence of black people and commended the black men who had fought with the Union army. He served as associate editor of the Charleston Leader, a postwar black newspaper.  In 1868 Ransier represented Charleston County in the constitutional convention and favored a petition to Congress appealing for funds to provide land to the freedmen. He successfully opposed a literacy requirement for voters and supported efforts to have in the new constitution a civil rights provision that would prohibit racial discrimination. He perplexed many delegates when he called for the creation of a public school system in which the race and color of students would not be mentioned.
Ransier was elected to the South Carolina House of Representatives from Charleston in 1868. He was Charleston county auditor from 1868 to 1870. Ransier supported the right of women to vote and participated in the 1870 Women's Suffrage Convention in Columbia. He also attended the 1869 State Labor Convention, an assembly of black politicians and labor leaders that lobbied the General Assembly for prolabor legislation.
In 1870 Ransier was elected to a two-year term as the state's first black lieutenant governor, serving during the second administration of Governor Robert K. Scott. Ransier was active in several black organizations in Charleston, including the Amateur Literary and Fraternal Association and Centenary Methodist Episcopal Church. He was also secretary to the Enterprise Railroad, a black corporation founded to operate a horse-drawn street railway to haul freight between the city's wharves and the railroad terminal.
Ransier was elected to the U.S. House of Representatives in 1872 and he served one term. From 1875 to 1877 he was a collector for the U.S. Internal Revenue Service. Ransier's political career declined rapidly after Reconstruction ended in 1877. He worked for a time as a night watchman at the Charleston Custom House and as a street laborer.
Ransier married Louisa Ann Carroll in 1856, and they were the parents of eleven children. She died in 1875, and he married Mary Louisa McKinlay in 1876. Ransier died in obscurity in Charleston on August 17, 1882.