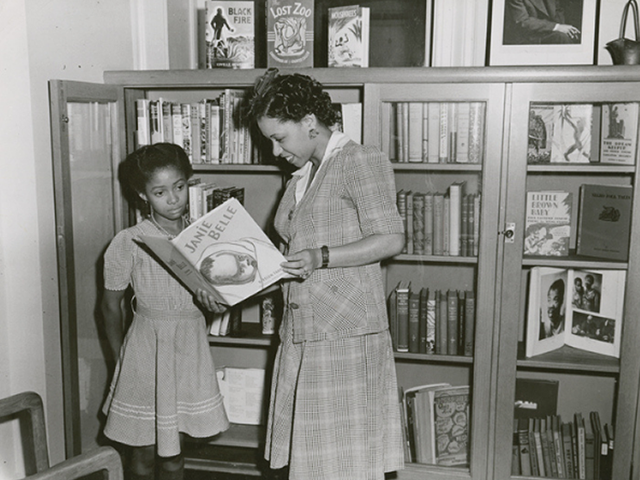 Librarian Augusta Baker showing a copy of Ellen Tarry's "Janie Belle" to a young girl at the library. 1941. Schomburg Center for Research in Black Culture, Photographs and Prints Division, The New York Public Library.
(1911-1998) Born in Baltimore, Maryland, Augusta was the only child of educators Winfort and Mabel Braxston. At age 16, she finished high school and attended the University of Pittsburgh and graduated from Albany (New York) State Teacher's College with a degree in Library Science. 
Baker became the first black librarian to serve as Coordinator of Children Services, a children's librarian at the New York Public Library. Baker amassed a collection of books that would provide inspiring Black role models that presented an accurate view of African American life to young people. She advocated for diversity in children's books, curating a list of books that accurately depicted African American life and encouraging authors, illustrators and publishers to create books for and about ALL children.  Baker's dedication to this cause helped produce the children's authors she was looking for and publishers eager to circulate them. She also served as a consultant to the public television program Sesame Street.
After her retirement from the New York Public Library, Baker moved to Columbia, South Carolina to become the University of South Carolina's story-teller-in-residence. the first such position at any university. The university's College of Library and Information Science, in conjunction with the Richland County Public Library, established the annual Augusta Baker's Dozen Storytelling Festival in her honor.
She had one son from her first marriage, James H. Baker III. Baker is buried in Columbia, SC.