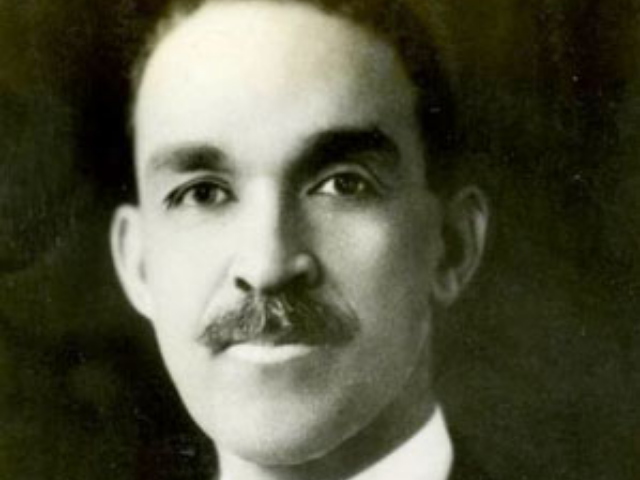 Benjamin Griffith Brawley. Wikimedia Commons.
(1882-1939)  Brawley was born in Columbia to Reverend Edward McKnight Brawley and Margaret Saphronia Dickerson.  He earned degrees from the University of Chicago (A.B., 1906) and Harvard (M.A., 1908). In 1912 Brawley married Hilda Damaris Prowd. The couple had no children. In 1921 he was ordained as a Baptist minister by the Massachusetts Baptist Convention. 
Between 1902 and 1939 Brawley taught English at various predominantly black colleges in the South and East. He was twice at Atlanta Baptist College (later Morehouse College), from 1902 to 1910 and again from 1912 to 1920. From 1923 to 1931 Brawley was on the English faculty at Shaw University in Raleigh, North Carolina. He served as professor of English at Howard University in Washington, D.C., during two separate periods: from 1910 to 1912 and from 1931 until his death.
Brawley was a prolific writer about the African American experience. While he was teaching at Morehouse in 1909, a student pleaded with him to write a textbook that would enable black students to learn something of the experiences and accomplishments of their own people. Four years later, in 1913, Macmillan published his book A Short History of the American Negro. In the ensuing years Brawley published over 15 additional books about African Americans and various other topics.
By the mid-1930s the federal Works Progress Administration in South Carolina had identified Brawley as one of the state's half-dozen outstanding African Americans. Perhaps his chief significance as a writer lay in his ability to articulate what he referred to as "the Negro problem"–the presence and plight of blacks in America. In a 1922 article in The Bookman, Brawley noted "the strange prominence of the Negro throughout the whole course of American history." Brawley insisted on articulating a positive black self-awareness. He later expanded his interest beyond the well-being of African American boys and girls alone. 
Brawley died at his home in Washington, D.C. In 1991 he was inducted into the South Carolina Academy of Authors.