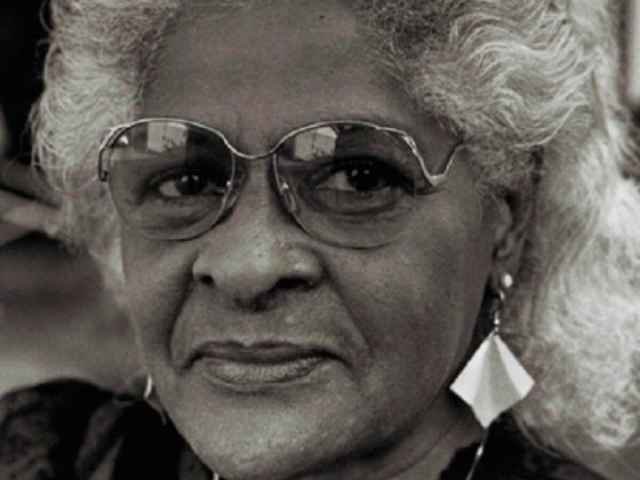 Bernice Violanthe Robinson. Image from Black Then.
(1914-1994)  Robinson was born in Charleston, SC. Her family was financially independent. As such, Robinson's parents discouraged their nine children from seeking jobs as domestic workers in white Charleston homes. Robinson realized the value of education, a lesson that served her well. She married in the 1930s and had a daughter, Jacquelyn, but her husband left to find work and never returned. 
In 1947, Robinson joined the National Association for the Advancement of Colored People (NAACP) and became involved with voter-registration drives. Self-employed as a beautician, Robinson could undertake civil rights work without fear of economic reprisal from the white community. In 1954 Septima Clark convinced Robinson to attend a workshop at the Highlander Folk School in Monteagle, Tennessee, where she met activists such as Rosa Parks and Esau Jenkins. Robinson returned from the Highlander workshop with a commitment to educating African Americans in her community.
In January 1957, with financial support from the Field Foundation and the Highlander School, Jenkins opened the first of what became known as the Citizenship Schools on Johns Island and asked Robinson to become its first teacher. Basing her curriculum on the practical needs of the people, she achieved great success with her first class. At the end of the five-month school period all fourteen pupils could read and write their own names and do arithmetic. More importantly, they had received voter-registration cards. The success of the Johns Island school led to the opening of additional schools on Wadmalaw and Edisto Islands. Robinson recruited teachers for these schools to be trained at Highlander.
In 1961 Robinson was chosen by Highlander and the Southern Christian Leadership Conference (SCLC) to set up voter-registration workshops across the racially charged South. These workshops helped transform the political and economic status of thousands of disenfranchised blacks. Robinson left the SCLC in 1970 and was hired by the South Carolina Commission of Farm Workers (SCCFW), for which she supervised Volunteers in Service to America (VISTA) volunteers in Charleston. In 1972 she ran for the state House of Representatives, the first African American woman to do so, but was defeated. Afterward Robinson returned to the SCCFW, where she worked with migrant workers until 1977.