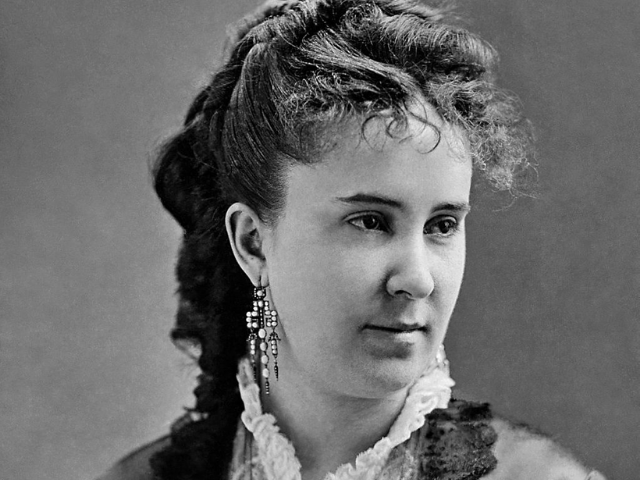 Louise Kellogg by Matthew Brady (1822-1896). U.S. National Archives and Records Administration.
(1842-1916) Clara Louise Kellogg was born in Sumter, SC to musically talented parents George Kellogg and Jane Elizabeth Crosby. Clara was exposed to music early in her childhood, and by adolescence she was regarded as being an especially skilled singer. The Kellogg family moved to New York where Clara completed her general education at Ashland Seminary and Musical Institute at Catskill, New York.  Clara was discovered by Colonel Henry G. Stebbins of the Academy of Music. Though originally trained as a musician, Kellogg devoted herself to vocal lessons for four years.
She made her American debut at the Academy of Music in Giuseppe Verdi's opera Rigoletto and gained widespread attention in Gounod's Faust.  During the next decade she toured extensively throughout Europe and North America, becoming one of the first American operatic singers to gain an international reputation. She formed her own touring company, the Clara Kellogg English Opera Company, which advertised itself with the slogan "opera for the people." Kellogg's company sung in English rather than foreign languages such as rather than Italian, German, or French in order to familiarize American audiences with the European opera and dance performances. Unfortunately, the troupe disbanded after enjoying only moderate success.
Kellogg married Carl Strakosch and they adopted a child. She stopped performing and  became a respected teacher to gifted younger vocalists.  She frequently provided financial assistance to numerous struggling musical artists.
 Kellogg died following a lengthy illness.