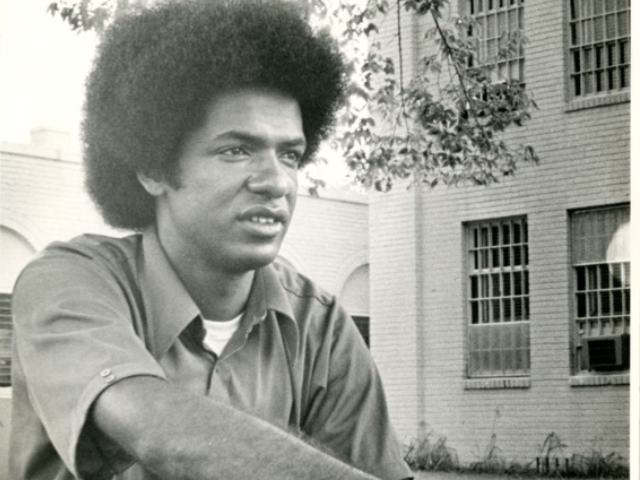 Photograph of Cleveland Sellers in 1973 possibly taken outside of prison following Sellers' release. Image from Avery Research Center at the College of Charleston.
(1944- )  Sellers was born in Denmark, South Carolina, to Cleveland L. Sellers, Sr., and Pauline Taggart. Due to the success of his parents, Sellers lived a fairly privileged life as an African American growing up in the segregated town of Denmark. Even though he experienced segregation and lived in a "black world," he did not experience the harsher aspects of racial segregation and discrimination that typically confronted African Americans. Nevertheless, he was aware of racial divisions and as a teenager participated in a sit-in movement in downtown Denmark in the spring of 1960. While attending the high school program at Voorhees Junior College, he participated in student protests. Sellers also organized a Youth Chapter of the National Association for the Advancement of Colored People in Denmark. But he was forced to resign from the organization at his father's insistence.
After graduating from high school, Sellers left South Carolina in 1962 to attend Howard University. At Howard he met several student activists, including Stokely Carmichael, who would later become chairman of the Student Nonviolent Coordinating Committee (SNCC). From 1962 to 1964 he participated in demonstrations, marches, and protests organized by Howard's student organization, Nonviolent Action Group (NAG), as well as those of other organizations in the Washington, D.C., area. In August 1963 he served on the planning committee for and participated in the monumental march on Washington led by SNCC and other civil rights organizations. In the spring of 1964 he worked with Gloria Richardson's Cambridge Nonviolent Action Committee to organize demonstrations protesting the poor economic conditions of African Americans in Cambridge, Maryland.
Sellers's role in SNCC earned him his reputation for activism. In the summer of 1964 he helped to organize and participate in SNCC's Freedom Summer voter registration project in Mississippi. Following the 1964 summer project, Sellers remained in the Deep South as an organizer for SNCC and eventually became its national program secretary. He was also present at many of the key events of the civil rights movement, including the 1965 march at Selma, Alabama, and the Lowndes County (Alabama) Freedom Organization political campaign in 1966.
Returning to South Carolina in 1967, Sellers sought to organize students at the state's historically black colleges–Benedict, Allen, Morris, and South Carolina State–to address problems that poor blacks faced. Sellers spent most of his time working with South Carolina State's Black Awareness Coordinating Committee (BACC). While Sellers was working with BACC, other students began demonstrations to desegregate a bowling alley in downtown Orangeburg. Beginning on February 5, 1968, a group of students who were not members of the BACC launched demonstrations to force the bowling alley to open its facilities to black students. As the confrontations between the students and the Orangeburg police escalated, several students were beaten and arrested, and white-owned property near the bowling alley and the campus was damaged. Sellers acted as an adviser to the students involved in the protests and sought to maintain calm. Despite his efforts police and state troopers opened fire on South Carolina State and Claflin College students, wounding twenty-seven and killing three.
In the aftermath of what was termed the "Orangeburg Massacre," Sellers was blamed for inciting a riot, indicted, and convicted. He served seven months in prison. At the end of his prison term he left the state and earned graduate degrees at Harvard and the University of North Carolina at Greensboro. In 1990 he returned to South Carolina to teach at the University of South Carolina. In 1996 he received a pardon for his conviction in connection with the Orangeburg shootings. Since 2000 he has served as director of the African American Studies Program at the University of South Carolina.