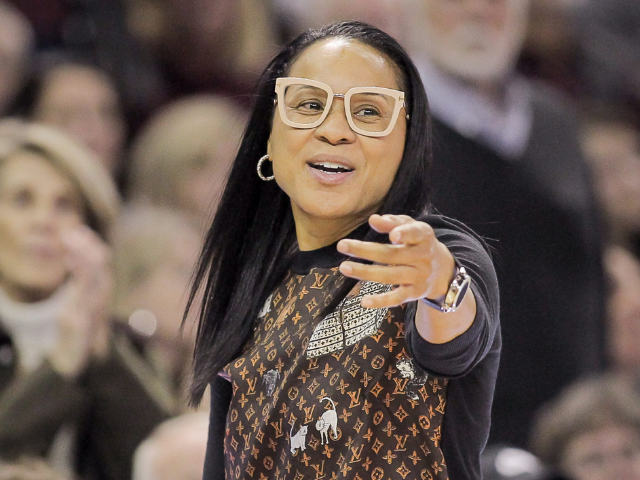 USC Basketball Women's Head Coach Dawn Staley. Photographed by Travis Bell. FitsNews. Independent. Unapologetic.
(1970- )  Staley was raised in North Philadephia, Pennsylvania by her parents Clarence and Estelle Staley. Staley played basketball at Dobbins Technical High School and in 1988 was named national high school player of the year, the only player under 6 feet to win. She attended University of Virginia when associate head coach Shawn Campbell recruited her to play for the Caveliers. As a freshman, she became a starter for the team, averaging 18.5 points per game, and helped the team to a 110-21 record. This propelled the Caveliers to four appearances in the NCAA Tournament, which led to three consecutive Final Four. 
Staley earned an astonishing array of awards and honors during her college years, including 10 Player of the Year awards, ACC Rookie of the Year, ACC Player of the Year , National Player of the Year, among multiple others. After college, Staley began her professional career playing with a team in Spain, and continued to travel the world playing in France, Italy, and Brazil. After returning to the US in 1994, she competed for the US National Team in the Goodwill Games and played in the 1994 World Championships.  In addition, she was a member of women's basketball team in the 1996 Olympic Games in Atlanta, which compiled a perfect 60-0 record to win the gold medal. 
Staley's first coaching job was at Temple University April 2000.  At that point, Temple had not seen a winning season in more than 10 years. Staley managed to achieve an impressive 10-6 start the first season.  She is currently the womens head basketball coach for the University of South Carolina, continuing her winning streak in coaching her team to the National Championship.