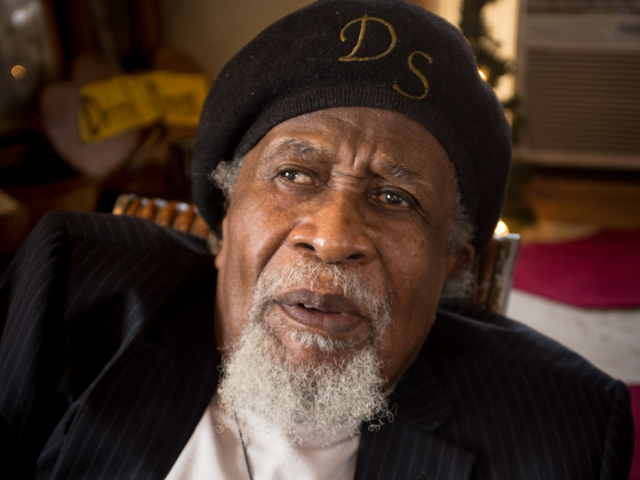 Drink Small. Image from Music Maker Foundation.
(1933- )  Drink Small (his real name) was born in Bishopville, South Carolina to Alice "Missie" Small and Arthur Jackson; they never married.  He attended a two-room schoolhouse as a child. He taught himself to play the guitar around the age of six or seven, originally learning on his uncle's one-string guitar. Also at an early age, he learned to play an old pump organ that was in his home.
At the age of eight, he was thrown from and caught under the moving wheel of a mule-drawn wagon and suffered a severe back injury. He wore a makeshift body cast for weeks, which ended his days picking cotton and helped turn him towards his musical path by listening to the radio and learning to play the songs on the guitar. Later in his youth he organized a local gospel group, the Six Stars. During high school he sang in the school glee club and with a quartet, as well as in his church. Around this time he also began to perform with a professional gospel group, the Golden Five.
After high school, he attended the Denmark Area Trade School in South Carolina, studying barbering. On weekends when he returned home from school, he and the Golden Five would perform at house parties. He found playing music at night and cutting hair all day to be difficult, so he quit barbering and began to play music full time. In 1955, he moved to Columbia, South Carolina to play guitar with gospel group The Spiritualaires. That group's performances included a show at the Apollo Theater in Harlem and an appearance on the Shirley Caesar Caravan television show. 
His musical style has been described as drawn from the Piedmont blues tradition but also includes gospel, rhythm and blues, boogie-woogie, and Delta and Chicago style of blues.  He was considered one of the best guitarists in gospel music in the 1950s, before he turned his attention to secular music later in that decade. His transition to playing the blues full-time was aided by his fan base from the gospel music world.  
Over the course of his long career, Small wrote hundreds of songs and recorded occasionally for small record labels, issuing six albums between 1990 and 2008. He started his own record label, Bishopville Records, in the 1970s.
Small has toured nationally and internationally, including performances at well-known festivals such as the Chicago Blues Festival and the King Biscuit Blues Festival, as well as at three international World's fairs. 
In February 2010, Small was one of several South Carolina musicians featured in the episode "Juke Joints and Honky Tonks" of the television documentary series Carolina Stories.[