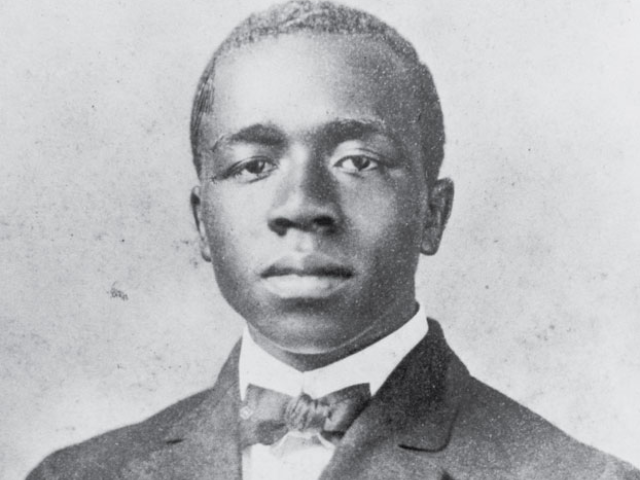 Music prodigy Edmund Thornton Jenkins (circa 1913). Charleston Magazine.
(1894-1926)  Jenkins was born in Charleston, the son of the Reverend Daniel Jenkins and Lena James. He attended the Avery Normal Institute in Charleston and studied at Atlanta Baptist College (now Morehouse College) from 1908 to 1914. He studied music privately in Charleston with teachers associated with his father's Jenkins Orphanage Bands, and continued his classical music studies in Atlanta. In 1914 the Jenkins Orphanage Band visited England to play at the Anglo-American Exposition, with Edmund as assistant conductor. He remained in London and enrolled at the Royal Academy of Music (1914–1921). He became a subprofessor of clarinet from 1918 to 1921.
Jenkins was one of the first American composers of orchestral jazz. Ironically, because of racial attitudes in America, he lived most of his brief life as an expatriate, although America, particularly Charleston, remained his source of musical inspiration. In London Jenkins associated with a number of politically active Afro-British and African professionals, confirming his pride in his race. His first major premiere was an orchestral piece, Folk Rhapsody (On American Folk Tunes) presented in London on December 7, 1919. The piece featured Negro spirituals, but the main theme was a sprightly and rhythmic folk tune, "Brer Rabbit What Do You Do Dere?" that he had first heard as a boy in Charleston.
Jenkins took advantage of the growing popularity of jazz in London and played clarinet in dance orchestras to support himself while he continued his classical music studies. In 1920 and 1921 he recorded dance numbers with various jazz groups. Around 1922 he relocated to Paris and toured with theatrical productions and dance orchestras on the Continent. He continued writing music on American themes, including a cabaret piece, Charleston Revue, set in his hometown, and Afram (1924), an operetta dealing with the abduction of an African prince into slavery.
In 1923 Jenkins spent ten months in the United States attempting to raise money for an all-black orchestra and a conservatory for African American students. The projects failed, and he returned to Paris bitterly disillusioned with the racial attitudes of the American music establishment.
In 1925 Jenkins founded his own publishing company, Anglo-Continental-American Music Press. In 1926 his fame grew in America when his African War Dance (1925), another orchestral piece (now lost), won the Holstein Prize.
Jenkins died in a Paris hospital possibly from appendicitis complicated by tuberculosis. His music remained unknown until seventy years after his death, when the Charleston Symphony performed the American premiere of Charlestonia on October 4, 1996.