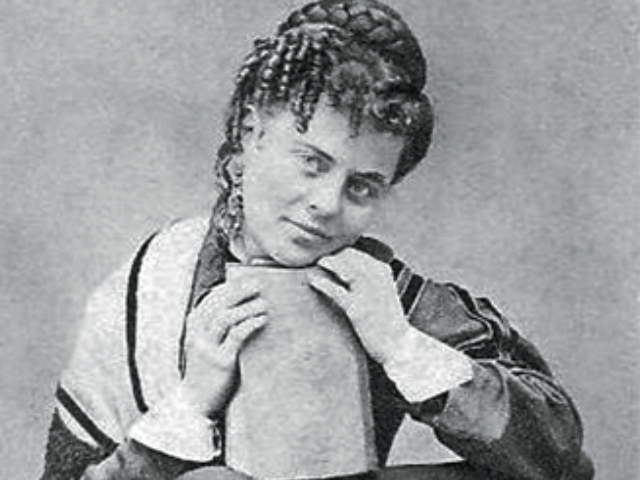 Elizabeth Allston Pringle. From the Georgetown Historical Society. Image uploaded by Find a Grave user Marie Livingston.
(1845-1921)  Pringle was born on Pawleys Island to Robert Francis Withers Allston and Adele Petigru. A governess tutored Pringle until she was nine, when she was sent to Madame Acelie Togno's Charleston boarding school.
The Civil War disrupted Pringle's education. She sought shelter in various places. After her father died in 1864, Pringle endured economic hardships because he had mortgaged most of his possessions. She taught in a Charleston boarding school her mother established until her dower's rights were legally recognized and the Allston family members were reinstated in their home. She married her neighbor John Julius Pringle and the couple's only son died as an infant. In 1876 Pringle's husband succumbed to malaria.
By 1880 Pringle was able to buy her home and fields from her husband's family, and she later acquired Chicora Wood after her mother's death in 1896. Pringle relied on her land yielding profitable rice crops to pay her mortgages and taxes. She wanted her family to regain its prestige and affluence lost during the Civil War, and she persevered to overcome obstacles in the patriarchal society. With minimal assistance from family and friends, Pringle oversaw both farms, utilized scientific agriculture methods, and decided to plant fruits such as peaches and rent property to hunters to supplement her income. She refused to sell her land.
Desperate because rice production in the lowcountry faced decreased profits, Pringle convinced the New York Sun editor to buy weekly articles she wrote about being a female rice-plantation owner. In 1913 her articles were collected in a single volume, A Woman Rice Planter. Pringle edited her previous pieces to resemble a diary, with vignettes that describe plantation life from a sentimental, aristocratic point of view that is often patronizing and racist. She included insightful details about African American folklife, white-black relationships, and racial attitudes. As the book's narrator, Pringle subtly criticizes contemporary popular opinion that southern women should be passive.
Pringle's best-selling book eased her financial worries. By 1920 she began writing another book to tell about her childhood and how women fared during the Civil War and Reconstruction. She died and was buried in Magnolia Cemetery. Her manuscript was published posthumously the next year.