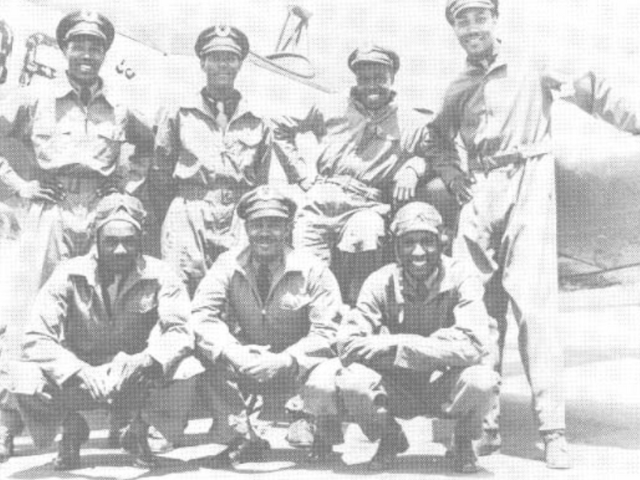 Rear L - R: Roscoe Draper, Fred Witherspoon, Philip Lee, Edward Gibbs. Front L-R: Ernest Henderson Sr., Joseph Ramos, James Hill. Image from The Tuskegee Airmen: The Men Who Changed a Nation by Charles E. Francis.
(1917-2011) Henderson was born in Mountville, South Carolia to James and Ella Henderson.  From plow to plane" is an appropriate way to describe Ernest Henderson's life. "I was plowing in the cotton field when I first saw an airplane," he recalls. "I was fascinated by that flying machine." That encounter as a child on a small farm in Laurens County left an impression. Ten years later, he became a pilot and flight instructor.  He graduated from Bell Street High School in Clinton, South Carolina, and attended Hampton Institute from 1937 to 1941. He then entered the Civilian Pilot Training Program and joined the Army Air Corps Pilot/Flight Instructor Group, who trained the legendary Tuskegee Airmen. His trainees later comprised the famous All-Black 99th Pursuit Squadron, who made history in aerial combat in the European Theater in World War II.
After the war, he completed his Bachelor of Arts degree at Benedict College in Columbia; his Master of Education degree at the University of Wisconsin, and studied further at the University of South Carolina and at Duke University. Mr. Henderson was an educator in Richland County for 21 years. He served as a classroom teacher, business manager, guidance counselor, and assistant principal.
He was married to Ophelia P. Henderson and they had 3 children.