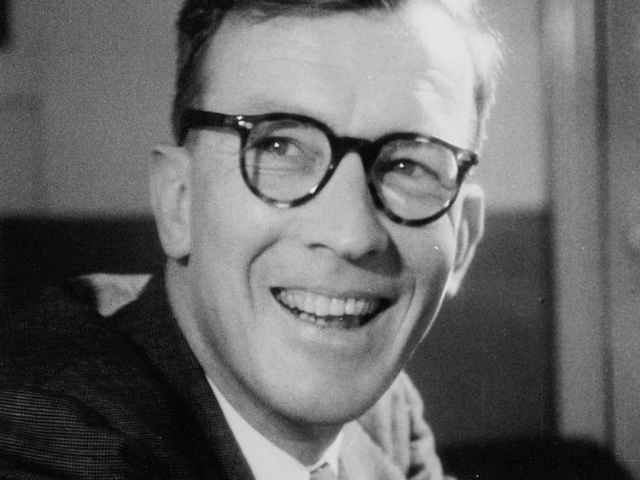 Frank B. Gilbreth, Jr. Image from Alchetron.
(1911-2001)  Gilbreth was born in Plainfield, New Jersey to Frank and Lillian Gilbreth. After attending St. Johns College for a year, Gilbreth went on to the University of Michigan where he graduated in 1933 with a Bachelor of Arts degree. He then worked for the New York Herald Tribune, the Charleston News and Courier, Buenos Aires Herald, and the Associated Press. During World War II, Gilbreth served in the Pacific as a naval officer and aerial photographer. He left the navy as a lieutenant commander and was awarded a Bronze Star and two Air Medals for his service.
Gilbreth is best known as the coauthor of Cheaper by the Dozen. Published in 1949, this book was Gilbreth's collaboration with his older sister, Ernestine Gilbreth Carey, about their childhood as two of twelve children in a house managed like a factory. Translated into thirty languages, Cheaper by the Dozen, along with its sequel, Belles on their Toes, was a best seller and was made into a successful film. Subsequently, Gilbreth wrote several additional books, including Innside Nantucket (1954), about a family-run boarding house, and Time Out for Happiness (1971), a biography of his parents.
In 1947 Gilbreth returned to Charleston and joined the staff of the News and Courier. For his popular column, "Doing the Charleston," Gilbreth wrote under the pseudonym Ashley Cooper. The column became one of the longest running in American newspaper history. He also assembled a brief dictionary of "Charlestonese," which amusingly discussed the port city's famous drawl. Selections from his column were published in Ashley Cooper's Doing the Charleston in 1993. Gilbreth also worked as assistant publisher of the paper and as vice president of Evening Post Publishing Company. The final "Doing the Charleston" ran in 1993, and in 1998 Gilbreth was named to the South Carolina Academy of Authors.
Gilbreth was married to Elizabeth Cauthen from 1934, until her death in 1954, and to Mary Pringle Manigault from 1955 until the time of his death.