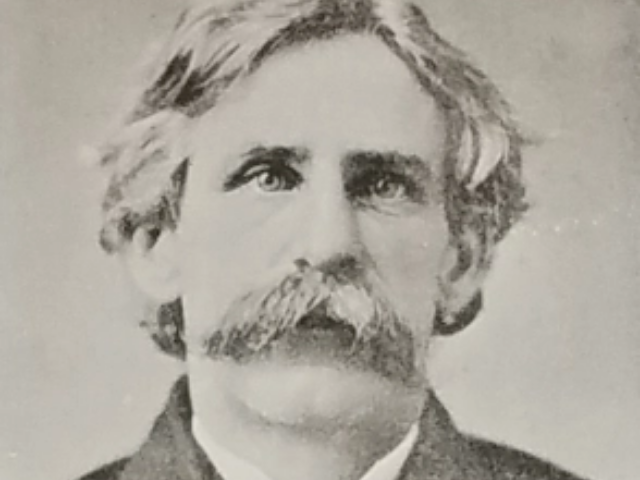 Franklin J. Moses, Jr. Image from Professional Criminals of America - Revised.
(1840-1906)  Moses was the son of Franklin J. Moses and Jane McLelland of Sumter, SC.  After briefly attending South Carolina College in 1855, Moses withdrew and commenced the study of law. On December 20, 1859, he married Emma Buford Richardson, with whom he had at least one child. Moses was drafted into the Confederate army. As editor of the Sumter News after the war, Moses supported President Andrew Johnson's Reconstruction policies, which restored many antebellum white leaders to power. He was admitted to the South Carolina Bar in 1868.
Moses joined the Republican Party and served in the 1868 constitutional convention and was elected to the General Assembly and elected Speaker until 1872. While serving in the legislature, Moses regularly accepted bribes to expedite the passage of legislation. In 1872 Governor Scott allegedly canceled repayment of a loan he had made to Moses in return for the Speaker's assistance in derailing a resolution to impeach the chief executive.
In 1872, in spite of his notorious reputation for corruption, the Republican state convention nominated Moses for governor and won the election. Moses was arguably the most corrupt governor in South Carolina history. He sold hundreds of pardons and regularly diverted public money to personal use. 
Moses was not renominated for governor in 1874. The General Assembly instead elected him to serve on the state circuit court. However, Governor Daniel H. Chamberlain refused to issue the necessary commission. The last three decades of Moses's life were marked by dissolution, decline, and crime. He eventually left South Carolina and lived in several northern cities. Addicted to drugs, he supported himself with assorted jobs as journalist and periodically resorted to crime. Moses died in poverty in Winthrop, Massachusetts.