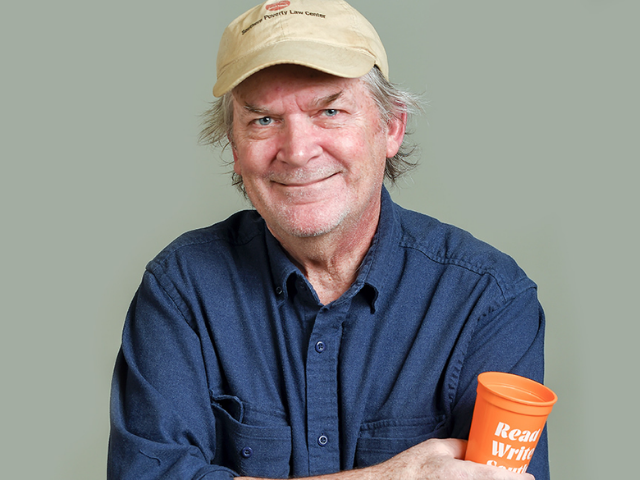 George Singleton. Image from Hub City Writers Project.
(1958 - )  Singleton wasa born in Anaheim, California, and raised in Greenwood, South Carolina.  Singleton graduated from Furman University with a degree in philosophy. He earned an M.F.A. degree from the University of North Carolina at Greensboro. Singleton taught fiction writing and editing at the South Carolina Governor's School for the Arts and Humanities for thirteen years. He currently lives in Spartanburg, South Carolina, with the clay artist Glenda Guion and teaches at Wofford College.   He has published more than a hundred short stories, many of them appearing in major literary and commercial magazines such as the Georgia Review and Atlantic Monthly; his work has been anthologized in multiple editions of New Stories from the South.
Singleton recalled his beginnings as a writer in the late 1970s, his decision in the 1980s to focus primarily on the short story form, and his slow but sure path to national prominence as a southern writer.  Singleton's first published collection of short stories, These People Are Us: Stories (River City Press, 2001), are all written in first person and set in the South.
With The Half-Mammals of Dixie, Singleton introduces readers to the fictional town of Forty-Five, South Carolina. This collection of fifteen tales, most written in first person and all linked by setting and theme, firmly establishes Singleton as a master of the tragicomic short story. In addition to the town of Forty-Five, it is in The Half-Mammals of Dixie that the character of Mendal Dawes makes his first appearance in the masterful "Show and Tell." The story, which first appeared in the Atlantic Monthly and was later anthologized in New Stories from the South, is narrated by nine-year-old Mendal, who gets caught up in his "widower" father's efforts to seduce his third-grade teacher.
Why Dogs Chase Cars: Tales of a Beleaguered Boyhood is a tightly knit short story cycle comprised of fourteen interconnected tales with a shared first-person narrator. The story cycle chronicles the life of Mendal Dawes, the narrator of "Show and Tell" in The Half-Mammals of Dixie, who wants most of all to get out of Forty-Five, South Carolina. 
Novel (Harcourt, 2005) marks Singleton's debut with the novel form. Set in the fictional town of Gruel, South Carolina, Novel tells the uproariously funny story of a professional snake-handler named Novel who sets out to write his autobiography. While struggling to capture–and to come to terms with–his own story, Novel uncovers a dangerous and disturbing secret about the town of Gruel.
In the nineteen stories in Drowning in Gruel (Harcourt, 2006), Singleton returns to the fictional setting of Gruel, South Carolina. As was the case with The Half-Mammals of Dixie and Why Dogs Chase Cars, both Novel and Drowning in Gruel are directly linked through shared setting and characters and themes. 
Work Shirts for Madmen marks Singleton's second foray into the novel form. The plot follows the struggles of the protagonist, Harp Spillman, to give up drinking and rehabilitate his career as an avant-garde metal sculptor by welding twelve angels out of hex nuts with the help of the Elbow Boys and his devoted wife Raylou.
With Pep Talks, Warnings, and Screeds: Indispensable Wisdom and Cautionary Advice for Writers, Singleton tackles the genre of nonfiction. These practical lessons on writing take the form of aphorisms, pep talks, and a few rants.
Stray Decorum is Singleton's latest book. With these eleven stories that share settings and characters and revolve around a theme of "strays," the author returns to the short story cycle form, and once again show why he has become one of the premier short story writers of his generation.