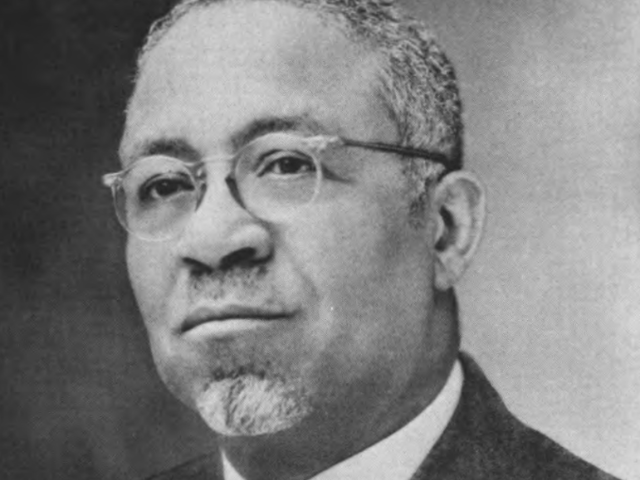 Gordon Blaine Hancock, 1952. The Perils and Prospects of Southern Black Leadership: Gordon Blain Hancock, 1884-1970.
(1884-1970)  Hancock was born in Ninety Six to Robert Hancock and Anne Mark.  After completing his initial education at a common school in Ninety Six, Hancock became a teacher. Two years later he enrolled at Benedict College in Columbia. On receiving a bachelor of arts degree in 1911 he was ordained a Baptist minister. His first active pastorate was at Bethlehem Baptist Church in Newberry. During that same year he married Florence Marie Dickson, a former Benedict classmate. The couple had no children.
In 1912 Hancock became the principal of Seneca Institute, a private coeducational school for African Americans in Oconee County. This facility was modeled closely after Booker T. Washington's Tuskegee Institute in Alabama. Although Hancock shared Washington's basic educational philosophy of self-improvement, he also believed that black southerners should engage in militant action to secure their voting rights. Consequently he angered many influential white South Carolinians. During a speaking tour in Greenville County in 1917, Hancock was threatened by the Ku Klux Klan. Fearing for his personal safety, Hancock resigned his post at Seneca Institute and left the state permanently.
Hancock went north, attending Colgate University in Hamilton, New York, and earning a bachelor of divinity degree in 1920. He subsequently enrolled at Harvard University, majoring in sociology. On obtaining a master of arts degree in 1921, he commenced doctoral studies. Before completing his degree requirements, however, Hancock accepted a professorship at Virginia Union University in Richmond, Virginia. He remained at this institution throughout his academic career, until forced into retirement in 1952. For many years he chaired the Department of History and Sociology. Besides teaching, Hancock was pastor at Moore Street Baptist Church from the late 1920s until 1963.
By 1930 Hancock had become closely associated with W. E. B. Du Bois, the editor of Crisis, the official journal of the National Association for the Advancement of Colored People. He periodically wrote articles for Crisis, as well as various other major black periodicals. In later years, however, the two men became estranged due to Du Bois's close affiliation with the American Communist Party. A more enduring friendship existed between Hancock and P. B. Young, Sr., the owner-editor of the Norfolk Journal & Guide, a black newspaper with a national circulation. Hancock wrote a long-standing weekly column, "Between the Lines," for Young's journal. 
In October 1942 Hancock was instrumental in convening a conference of black Southern leaders in Durham, North Carolina. He was a primary contributor to the Durham Manifesto, a document that called for African Americans to reject the racial status quo in the South and to secure their right to vote.
Hancock died at his home in Richmond and is buried at Roselawn Memorial Gardens in Richmond.