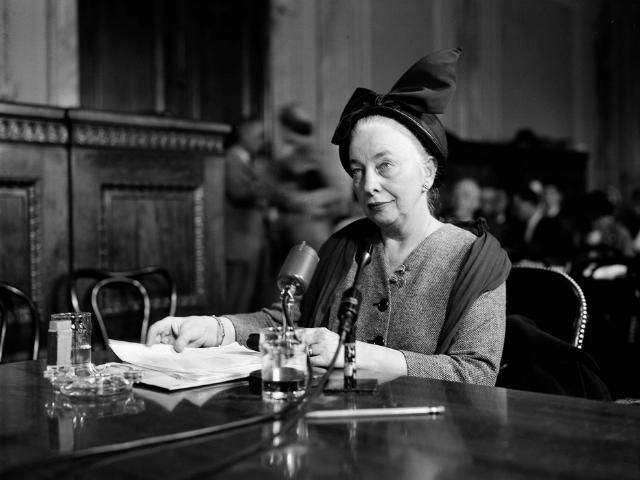 Grace Lumpkin testifying before the Permanent Investigating Subcommittee of The Government Operations Committee charied by Joseph P. McCarthy on April 2, 1953. CourtesY of the Associated Press. Sisters and Rebels.
(1896-1980)  Lumpkin was born in Milledgeville, Georgia, to William Wallace Lumpkin and Annette Caroline Morris. The family moved to Columbia, SC, around 1900.
Grace earned a teacher's certificate from Brenau College and then held various jobs in the Carolinas and France as a teacher, home demonstration agent, and social worker. At home, she conducted night classes for adult farm and mill workers and attended meetings of the nascent interracial cooperation movement. She harbored a desire to write, and in 1925 she moved to New York City, where she took a job with The World Tomorrow, a pacifist Quaker publication. Her coverage of the Communist-led textile strikes in Passaic, New Jersey, in 1926 struck a militant chord. Almost immediately, Lumpkin went to work for a Soviet-affiliated trading company and joined a chapter of the John Reed Club for leftist writers. Her first published piece, "White Man, a Story," appeared in the September 1927 issue of New Masses. Five years later, Lumpkin published her first novel, To Make My Bread, the material for which she had gathered as a witness to the Gastonia, North Carolina, textile strikes of 1929. The book chronicles the farm-to-factory transformation of the McClure family.
Lumpkin's second novel, A Sign for Cain (1935), appeared during a frenetic period of speech-making and investigative work in the South on behalf of the Communist Party, which she never officially joined. Her personal life was similarly complicated. In the early 1930s, she and her husband, Michael Intrator, a labor organizer who had been expelled from the Communist Party in 1929, lived with another married couple, Whittaker Chambers (who later became a Soviet spy) and Esther Shemitz. Lumpkin and Intrator divorced in the late 1930s. She subsequently took refuge with an ardently anti-Communist organization run by an Episcopal priest in New York, the Moral Re-Armament Movement.
In 1948 Whittaker Chambers accused former State Department official Alger Hiss of spying for the Russians. Investigators interviewed Lumpkin, hoping that she might discredit Chambers's testimony. Instead, she took up her former housemate's defense in a New England speaking tour, lauding Chambers's role in her own renunciation of Communism. She testified before Senator Joseph McCarthy's Permanent Subcommittee on Investigations in 1953, telling the panel that she had written "the fundamental philosophy of communism" into A Sign for Cain after-party functionaries threatened to "break" her literary career.
Lumpkin's final novel, Full Circle, which appeared in 1962, is a fictionalized account of her peculiar ideological and spiritual life journey, which she delineated as her Communist and "return to God" phases. She died in Columbia and is buried in her family's plot at Elmwood Cemetery in Columbia. She was inducted posthumously into the South Carolina Academy of Authors in 1996.