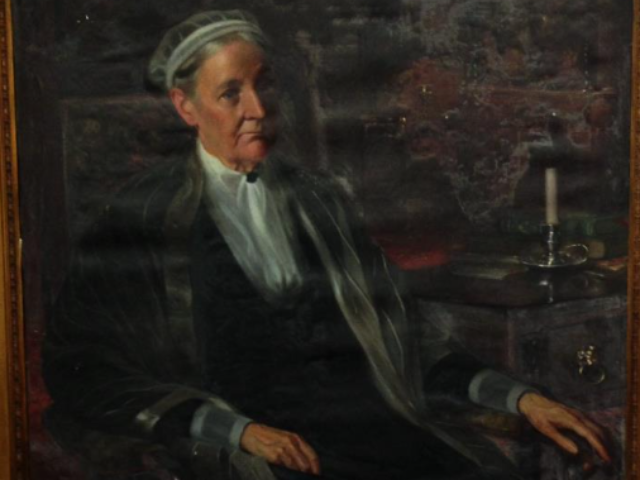 Portrait of Harriott Horry Rutlege Ravenel by Charles Van Dyke. Image from Charleston Library Society.
(1832-1912)  Ravenel was born in Charleston to Edward Cotesworth Rutledge and Rebecca Motte Lowndes. In her youth, she received private tutoring at her home in Charleston and attended Madame Talvande's prestigious female academy. She married a prominent physician, St. Julien Ravenel, with whom she would have nine children. During the Civil War her husband oversaw a Confederate hospital and medical laboratory, and she accompanied him to Columbia. While her husband was away on Confederate business, Ravenel resisted Sherman's soldiers and protected her home from fire, prompting Mary Chesnut to write in her diary, "Mrs. St. Julien . . . actually awed the Yankees into civil behavior." 
Though she wrote poetry, brief essays, and stories on other subjects, Ravenel's major works focused on southern history and manners. Her most successful piece of fiction, Ashurst; or "The Days That Are Not," fondly depicted antebellum lifestyles and landscapes. Ravenel's other major works were born of her interest in preserving state and family history. A descendant of the statesmen John Rutledge and William Lowndes and a relative of the famed Charles Cotesworth Pinckney, Ravenel drew on her "intimate knowledge of family history and traditions" as well as letters, journals, and archives to shape her writings.
In 1896, as part of a national series entitled "Women of Colonial and Revolutionary Times," Ravenel published a brief biography, Eliza Pinckney, to preserve the achievements of her great-great-grandmother. Five years later she published Life and Times of William Lowndes of South Carolina, 1782–1822 as a tribute to her maternal grandfather, who served in Congress with John Calhoun and Langdon Cheves. Her final work, Charleston: The Place and the People, appeared in 1906, tracing the history of her native city from its lively colonial past to the Civil War era. While Ravenel's works received many favorable contemporary reviews, her books were also noted for reflecting a "sympathetic interest" and "uncritical" perspective.  She died in Charleston and was buried in Magnolia Cemetery.