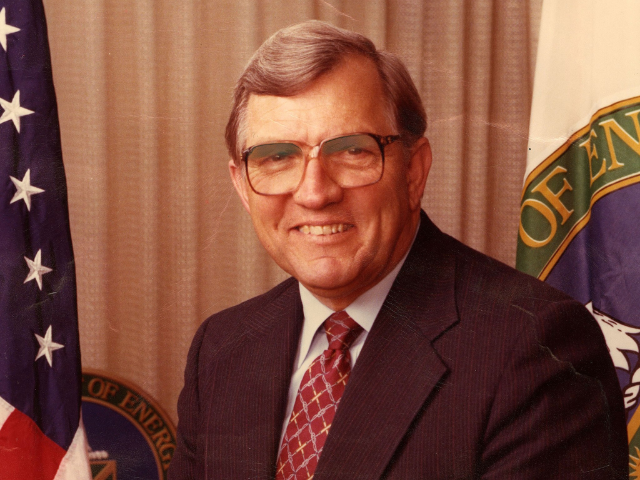 A color portrait of James Edwards, U.S. Secretary of Energy (1981-1982) and Governor of South Carolina (1975-1979). From the South Carolina Political Collections at the University of South Carolina.
(1927-2014)  Jim Edwards was born in Hawthorne, Florida, to Ordie Morton Edwards and Bertie Rae Hieronymus. The family moved to Charleston when Edwards was only one year old. After serving in the U.S. Maritime Service from 1944 to 1947, he continued his education and graduated from the College of Charleston in 1950. The following year Edwards married Ann Norris Darlington of Edgefield, and they eventually had two children He earned the D.M.D. degree from the University of Louisville School of Dentistry in 1955 and interned in oral surgery at the University of Pennsylvania Graduate Medical School. On completion of his medical training in 1960, Edwards returned to South Carolina and established an oral-surgery practice in Mount Pleasant.
During the 1960s Edwards became active in the South Carolina Republican Partyand served as chairman of the Charleston County Republican Party from 1964 to 1969 and gradually assumed statewide influence in the party. In 1972 Edwards won a seat in the S.C. Senate and was well liked by colleagues in both parties.
In 1974 Edwards became governor, which became a landmark in the growth of modern two-party politics in South Carolina.  Edwards sought to hold the line on state payrolls and curbed welfare fraud by reforming the State Department of Social Services. He pushed successfully for the landmark Education Finance Act and established the South Carolina Energy Research Institute to coordinate energy development. Although his political popularity was high, Edwards never sought elective office again and returned to his oral-surgery practice at the end of his term in January 1979.
When Ronald Reagan became president in 1981, he named Edwards secretary of energy.  Edwards emphasized the expansion of nuclear energy resources and decontrol of crude oil prices, and he revamped programs that featured conservation and development of alternative fuels. 
Resigning as secretary on November 5, 1982, Edwards returned to South Carolina to become president of the Medical University of South Carolina in Charleston. Under his leadership, MUSC thrived, expanding into new areas of medical research and securing a tenfold increase in research funding. Edwards retired in 1999.