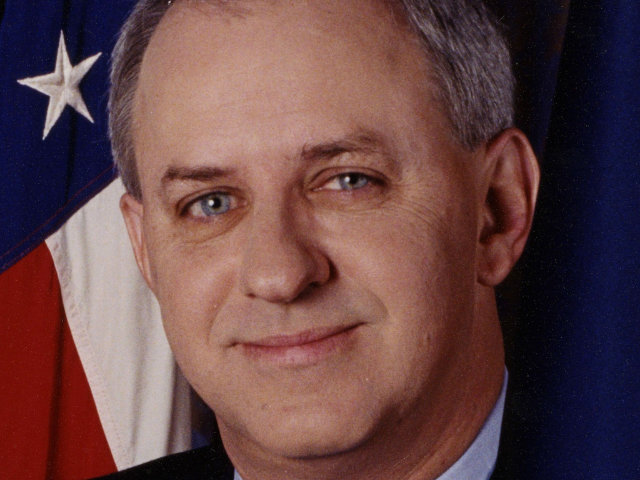 A color portrait of South Carolina Governor Jim Hodges. Image from South Carolina Political Collections at the University of South Carolina.
(1956 - )  Jim Hodges was born in Lancaster, the son of George and Betty Hodges. He graduated from Lancaster High School and graduated from the University of South Carolina with a business degree in 1979 and a law degree from the University of South Carolina School of Law in 1982 and returned to Lancaster to practice. In 1986, Hodges was elected to the South Carolina House of Representatives and chaired the Judiciary Committee and served as the S.C. House Democratic Leader. On December 5, 1987, he married Rachel Gardner of Hartsville. They have two sons.
When he began his quest for the governorship in 1998, Hodges was a political unknown, given little chance of unseating Republican David Beasley. However, halfway through Beasley's term, Beasley created a lot of controversy regarding the removal of the Confederate flag from the top of the State House, eliminating video poker, an industry that had begun to flourish in South Carolina, and opposed a state lottery, a stance which Jim Hodges skillfully turned into an education measure, appealing to strong public support for improving the state's low ranking on national test scores.  Hodges soundly defeated Beasley and his election was heralded as a major triumph for the Democratic Party.
Education was the centerpiece of Hodges's term as governor. He oversaw the implementation of the education lottery and created a preschool initiative, First Steps, designed to prepare more children for first grade. He won passage of a $1.1 billion school construction initiative and championed increased teacher pay and more parental involvement in the schools. Hodges also initiated the state's first sales tax holiday and the South Carolina SilverCard, which offered prescription drug coverage for the state's senior citizens. He gained national attention in 2002 with his stance against the federal government's shipment of nuclear waste into the state, vowing to lie down in front of the trucks, if necessary, to prevent the shipments from entering South Carolina.
A slowing economy, declining state revenues, and tax cuts by the Republican-controlled General Assembly severely limited Hodges's role as an "activist" governor. He was defeated in 2002 when he sought reelection against Mark Sanford, a well-spoken, politically savvy, three-term Republican congressman from Charleston. After his defeat, Hodges took charge of Hodges Consulting Group, a subsidiary of the law firm Kennedy Covington Lobdell and Hickman, based in Columbia.