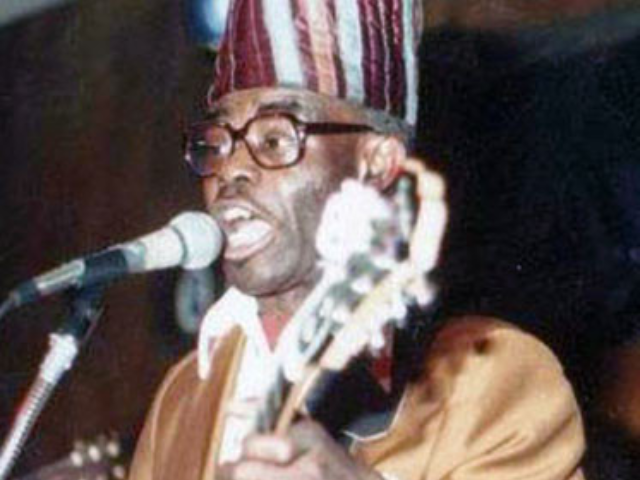 J.B. Hutto. Image from Discogs.
(1926-1983) Joseph Benjamin Hutto, better known as J.B. Hutto, was born in Blackville, South Carolina. At the age of three, the family moved to Augusta, Georgia. As a young man, Hutto and his three brothers and three sisters formed a gospel group called the Golden Crowns and performed at the local churches in the area. The family soon relocated to Chicago after Hutto's father, Calvin, died in 1949. After serving as a draftee in the Korean War, Hutto started performing with Johnny Ferguson and his Twisters. He also did street and club shows with Eddie "Porkchop" Hines and Joe Custom. In 1954 the trio added harmonica player Earring George Mayweather and pianist Johnny Jones to their band called Hawks and produced three singles by Chance Records. 
In the late 1950s, Hutto took an eleven-year hiatus due to becoming disenchanted with the music industry. During those years, he worked as a janitor in a funeral home. In the mid-1960s, Hutto returned to the music industry with a new version of the Hawks featuring bass player Herman Hassell and drummer Frank Kirkland. The revamped group released the compilation album Chicago/The Blues/Today! Vol.1. In 1968, the band released Hawk Squat, which featured Sunnyland Slim on organ and piano, Lee Jackson on guitar, and Maurice McIntyre on tenor saxophone.
Hutto then performed with the House Rockers after its leader, Hound Dog Taylor, passed away in 1975. In the late 1970s, Hutto moved to Boston and created a new band called the New Hawks. The band recorded albums for the Varrick label, and in 1983, Hutto recorded his last album, Slippin' & Slidin'. 
On June 12, 1983, Hutto passed away from cancer at the age of 57, but his legacy continues to live on through his nephew, blues singer Lil' Ed Williams, and the red Montgomery Ward Res-O-Glas Airline guitar is often referred to as the J.B. Hutto model.