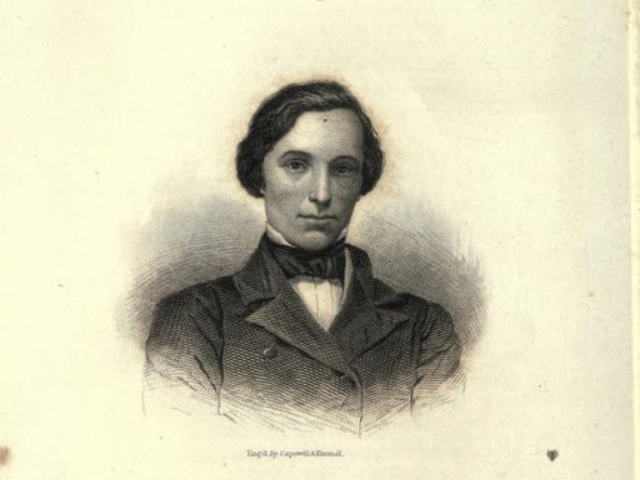 Engraved portrait of James Matthew Legaré (1823-1859). From The Knickerbocker Gallery, New York: Samuel Hueston, 1855: p.347.
(1823-1859)  Legaré was born in Charleston, South Carolina, the son of John D. Legaré and Mary Doughty Mathewes, and he was expected to work hard and bring honor to the family name.
He entered the College of Charleston for one year before transferring to St. Mary's College in Baltimore, perhaps to be closer to his influential cousin Hugh Swinton Legaré, who was then serving as U.S. Attorney General. 
Despite the death of his cousin, Legaré returned to Charleston, empowered by his undergraduate experience in Baltimore, to take up the duties of law clerk. He also began showcasing his creative talent by exhibiting his paintings in local exhibitions and submitting poems to local periodicals. It was also during this period that a series of lung hemorrhages gave early indication that he had contracted pulmonary tuberculosis. In quest of a healthier climate and greater financial opportunity, his parents and he moved to Aiken, which then had a reputation as a therapeutic resort, especially for those suffering from consumption.
Once settled in a small cottage, James tried his hand at a number of activities that he hoped would add to the family's coffers and also enhance his reputation as a man of intellectual promise. He set up a painting school for the young ladies of the area.  His dark good looks soon attracted the attention of a number of female admirers, among them his future wife, Anne Andrews of Augusta, Georgia.
Legaré also focused considerable time and energy on mechanical invention, including the development of a new type of encaustic tile, an inexpensive glazier's putty, and a material he called "lignine" or "plastic cotton" from which he fashioned shingles and furniture. Legaré also sought recognition for his poetry and fiction. In 1848, he published Orta-Undis, roughly translated as "Sprung from the Waves"–a probable reference to the birth of Venus.  The book attracted good reviews, including the endorsement of Henry Wadsworth Longfellow. He also published seventeen stories in some of the most popular national periodicals of the day, often being the only southern contributor.
Despite his fragile health, Legaré had a head full of ambitious schemes, most of which remained untried when he died of consumption at the age of thirty-five. He is buried in the churchyard of St. Thaddeus Episcopal Church in Aiken; the grave is marked by a memorial stone financed by local high school students in 1942.