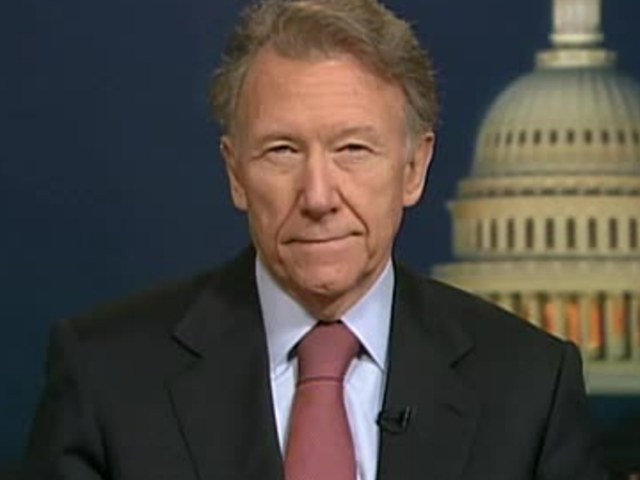 Jim Hoagland. Image from Charlie Rose.
(1940- )  Jim Hoagland was born in Rock Hill, SC, the son of Lee Roy Hoagland, Jr., and Edith Irene Sullivan. He graduated from the University of South Carolina with a degree in journalism. He worked briefly as a sports writer for the State and the Columbia Record before winning a scholarship to study French at Aix-en-Provence in southern France. After serving two years with the United States Air Force in Europe, Hoagland worked as copy editor on the international edition of the New York Times in Paris from 1964 to 1966.
Hoagland joined the Washington Post in 1966 as a metro reporter. But it is in international reporting and commentary that Hoagland has made his mark. He was assigned to Nairobi in 1969 as the Post's correspondent in Africa. For nearly two years he covered colonial wars, the revolution in Rhodesia (now Zimbabwe), and apartheid in South Africa. Hoagland's reporting on apartheid was the basis for his first Pulitzer–for international reporting–in 1971 and also for his book South Africa: Civilizations in Conflict (1972). Hoagland became the Post's Middle East correspondent in 1972, covering the Arab world, Israel, and Iran. He moved to Paris in 1976 to cover France, Italy, and Spain. In 1978 he became diplomatic correspondent on the Post's national staff in Washington and in 1979 foreign news editor. Hoagland's second Pulitzer Prize–for distinguished commentary–was awarded in 1991. As associate editor / senior foreign correspondent for the Post, he continues his twice-weekly commentary on international affairs. In 2002 he was awarded the Cernobbio-Europa Prize by the European press for his commentary on the aftermath of the September 11, 2001, terrorist attacks on New York City.
He lives in Washington, D.C., with his wife, Jane Stanton Hitchcock.