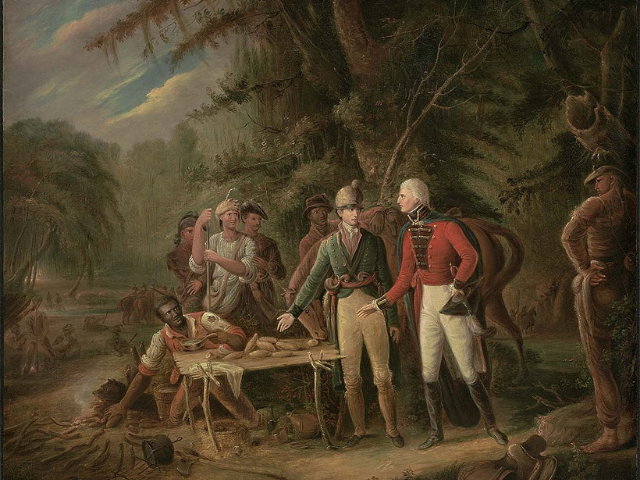 General Francis Marion Inviting a British Officer to Share His Meal. Painted by John Blake White. Wikimedia Commons.
(1781–1859)  White was born near Eutaw Springs at Whitehall Plantation, St. John's Berkeley Parish, to Blake Leay White and Elizabeth Borquin. A pioneer in early American painting and literature, White was a leading figure in both art forms in antebellum South Carolina.
In 1800, White sailed for England, where he studied painting under Benjamin West, the American-born official historical painter to King George III. In 1803 White returned to South Carolina and settled in Charleston. Finding little market for the grand historical subjects he wished to execute, he applied to the bar and attempted to make a living painting portraits. In 1806 his first two plays, Foscari, or the Venetian Exile and The Mysteries of the Castle, were performed at the Charleston Theatre. He was admitted to the bar in 1808, greatly improving his financial and social standing. In 1818 he was elected by the city parishes of St. Philip's and St. Michael's to the General Assembly, where he served one term. He became a director of the South Carolina Academy of Fine Arts the year it was chartered in 1821. He took a position at the U.S. Custom House, where he worked for the next twenty-five years. In 1845 he was made an honorary member of the National Academy of Design. He was married twice, first to Elizabeth (Eliza) Allston on March 28, 1805, and then to Anna Rachel O'Driscoll on October 2, 1819, two years after Eliza's death. His first marriage produced four children, and his second produced eight.
Although White's earliest plays are Gothic romantic tragedies set in Europe, his other dramas are notable for addressing contemporary American concerns. Modern Honor, which opened at the Charleston Theatre in 1812, was the first anti-dueling play in American literature and attacked the practice as "sanctioned murder." Unafraid of controversy, White also spoke out against capital punishment and allied himself with opponents of nullification. The Forgers, written in 1829 and published in 1837, was one of America's first temperance plays. The Triumph of Liberty, or Louisiana Preserved ostensibly celebrated Andrew Jackson's victory at the Battle of New Orleans during the War of 1812. But the play, published in 1819, also attempted to justify the execution in 1818 of two British citizens convicted of inciting Indians during the Seminole War.
Both of White's parents served in the Revolutionary War, his father at Fort Moultrie and his mother as a spy for Francis Marion. Some of his paintings depict dramatic scenes from the conflict. Four of these, General Marion Inviting a British Officer to Share His Meal, Sergeants Jasper and Newton Rescuing American Prisoners from the British, Mrs. Motte Directing Generals Marion and Lee to Burn Her Mansion to Dislodge the British, and The Defense of Fort Moultrie, all painted between 1810 and 1815, hang in the U.S. Capitol. Among his portraits are those of South Carolina luminaries John C. Calhoun, Charles Cotesworth Pinckney, and Henry Middleton. White died in Charleston and was buried in the family plot at St. Philip's Church.