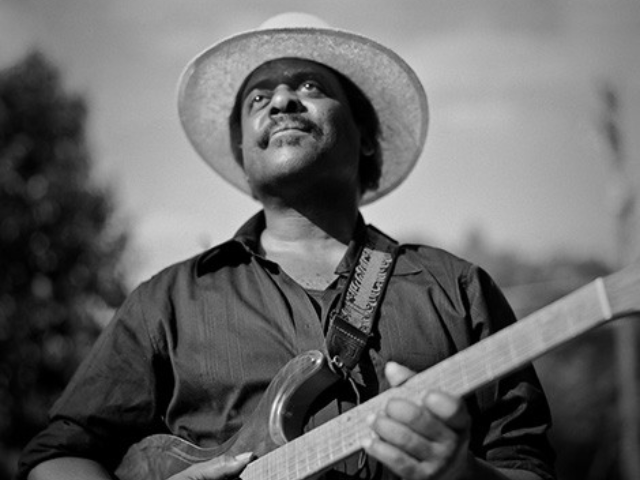 Cool John Ferguson. Image from Discogs.
(1953-) Cool John Ferguson was born in Beaufort, South Carolina. When Ferguson was three years old, he learned how to play the guitar. His signature style of playing the guitar upside down was due to being naturally left-handed. At the age of five, he started professionally performing gospel music. He and his siblings were billed as Little John and the Ferguson Sisters on Channel 5's The Lowcountry Sing. As a teenager, he joined the marching band and learned how to read music. In 1972, he joined the Earl Davis Trio jazz band and performed across South Carolina and on the tent revival circuit. 
When he relocated to Durham, North Carolina, the locals noticed that Ferguson had a unique way of walking and talking, so he was nicknamed "Cool John." During this time, Ferguson performed with other musicians, including Little Pink Anderson and Frank Edward. He also toured across the Southeast, performing at the Byron Bay Bluesfest, Lincoln Center Out-Of-Doors, Lucerne Blues Festival, the Savannah Music Festival, and the Lincoln Center for the Performing Arts. 
Since the 1990s, Ferguson has worked as the Music Maker's Director of Creative Development. His work with Music Maker has ensured that albums by lesser-known blues, folk, and country artists were heard and recorded. In 2007, Ferguson and his family relocated to Atlanta, where he started his own record label, Cool John Records. Under this label, he released the album With These Hands.