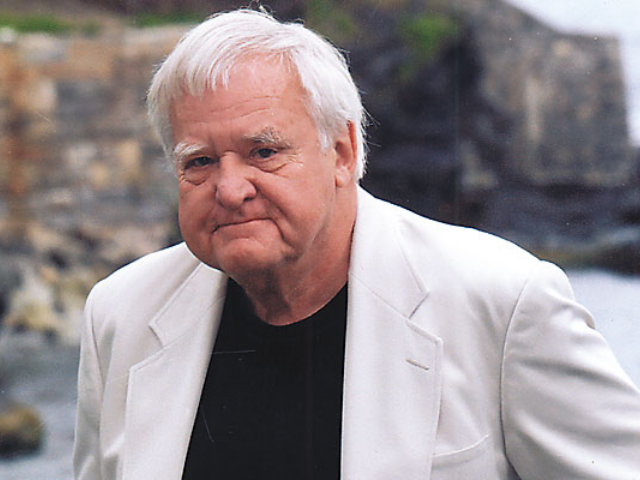 John Jakes. Image from True West Magazine.
(1932- )  Jakes was born in Chicago, Illinois, the son of John Adrian Jakes and Bertha Retz. Jakes is a nationally known, best-selling novelist and historian.  As an eighteen-year old freshman at Northwestern University, Jakes sold his first short story for $25 and has been a commercial writer ever since. On June 15, 1951, he married Rachel Ann Payne. The marriage produced four children.
Jakes received his Bachelor of Arts degree from DePauw University and a master of arts degree in American literature from the Ohio State University. He worked for several pharmaceutical and advertising companies during the 1950s and 1960s. All the while he was producing two hundred short stories while writing at night. In 1973 he began writing the Kent Family Chronicles depicting American history in the age of the Revolution through the eyes of one fictional family. All were national best sellers. Between 1982 and 1987, Jakes published his Civil War trilogy, North and South, Love and War, and Heaven and Hell that featured the fictional South Carolina family of Orrie (Horry) Main. More recent novels have included California Gold, Homeland, and American Dreams. In 2002 Jakes published Charleston, his first full-length historical novel based on the history of his adopted state. The novel chronicles the history of the city, and through it, the history of the state and the old South, from the seventeenth century through the Civil War.
Jakes holds honorary degrees from five universities, including his alma mater, the Ohio State University. He has been a research fellow of the Department of History at the University of South Carolina and is only the tenth living inductee of the South Carolina Academy of Authors. Two of his novels, North and South (1982) and Homeland (1993), were nominated for the Pulitzer Prize.