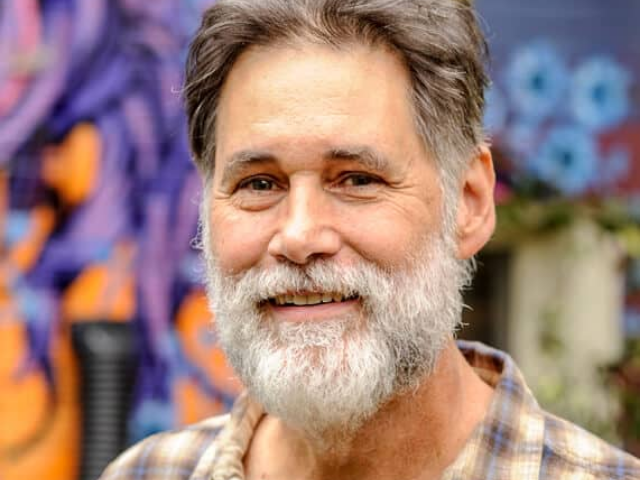 John Lane. Image from Spartanburg Methodist College.
(1954- )  John Lane was born in Southern Pines, North Carolina.  Lane earned his B.A. from Wofford College and his M.F.A. from Bennington College. From the late 1970s to the late 1980s, Lane lived variously in the Pacific Northwest, Oklahoma, Virginia, South Carolina, and North Carolina. In the late 1980s he was invited back to Wofford to teach creative writing. When Wofford created an environmental studies major in 2008, Lane served as the program's interim director, and he is currently the director of Wofford's Glendale Shoals Environmental Studies Center. 
Lane's work has garnered numerous awards, including an NEA Poetry Apprentice Grant in 1979, a University of Virginia Hoyns Fellowship in Poetry (1980), a South Carolina Arts Commission Individual Arts Fellowship (1984), and the Phillip D. Reed Memorial Award for Outstanding Writing on the Southern Environment (2001). In addition, in 2008 Lane had the honor and distinction to have his literary papers acquired by the Sowell Family Collection in Literature, Community, and the Natural World at Texas Tech University. In 1995 Lane cofounded the Hub City Writers Project in Spartanburg, dedicated to promoting and publishing high-quality southern-oriented writing. 
Lane has always been a prolific writer, producing works in several different genres, including poetry, nonfiction, fiction, drama, and screenplay.   His major titles include Waist Deep in Black Water (2002), Chattooga: Descending into the Myth of Deliverance River (2004), Circling Home (2007), and My Paddle to the Sea (2004, republished 2011) and Redemption Ecology and Other Essays (2012).
In Lane's nature writing, place becomes the true protagonist and Lane, as narrator, is left to tell the reader the true story of the place by evoking a series of emotional responses arising from his own personal confrontation with the setting.  The love between the author and the natural world which he inhabits is the relationship that inspires and guides Lane in all of his work. In 2014 he was inducted into the South Carolina Academy of Authors.