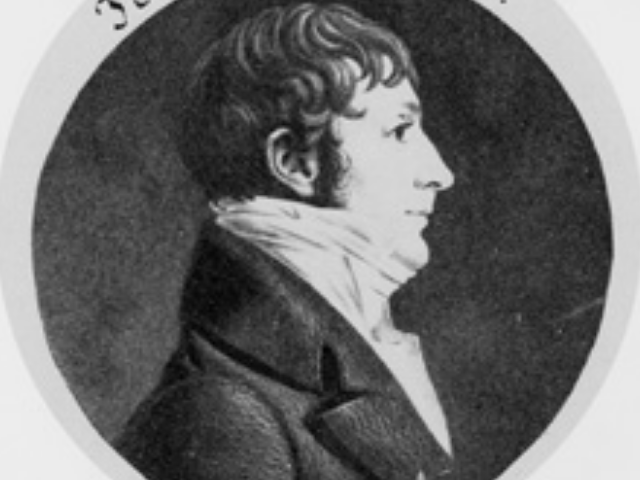 John Taylor (1770-1832), early governor of South Carolina from the South Caroliniana Library. Wikimedia Commons.
(1770-1832) Born near Granby (current day Cayce, SC), Taylor was the eldest son of Thomas Taylor and Ann Wyche. Taylor attended academies in Camden and Winnsboro for three years prior to entering the College of New Jersey (Princeton University). After graduation, he returned to South Carolina and read law under the Charleston attorney Charles Cotesworth Pinckney until his own admission to the bar. Toward the end of his legal apprenticeship Taylor married Sarah Cantey Chesnut and they had sixteen children, seven of whom survived to adulthood.
From 1793-1805, he served in the South Carolina House of Representatives.  Attentive to upcountry interests, Taylor supported the abolition of plural voting, the reapportionment of representation, the improvement of inland navigation, and the perpetuation of slave importation. He was deemed one of the "ablest" and "most active" members of the House.
From 1807-1810, Taylor served in the U.S. House of Representatives, then served in the U.S. Senate from 1810 to 1816, when he resigned for personal reasons. After a two-year hiatus, Taylor returned as a member of the South Carolina Senate from 1818 to 1825. During this period Taylor's political views shifted from nationalist to states' rights. In 1826 Taylor became governor of South Carolina.  Taylor used his position to rally opposition against Congress, whose continued sanction of protective tariffs and internal improvements he denounced as unconstitutional and inequitable. 
After the expiration of his term Taylor remained politically active for at least another two years, during which time his antipathy for tariffs drove him to increasingly radical stances. On April 16, 1832, Taylor died unexpectedly in Camden. He was buried in his family cemetery in Columbia.