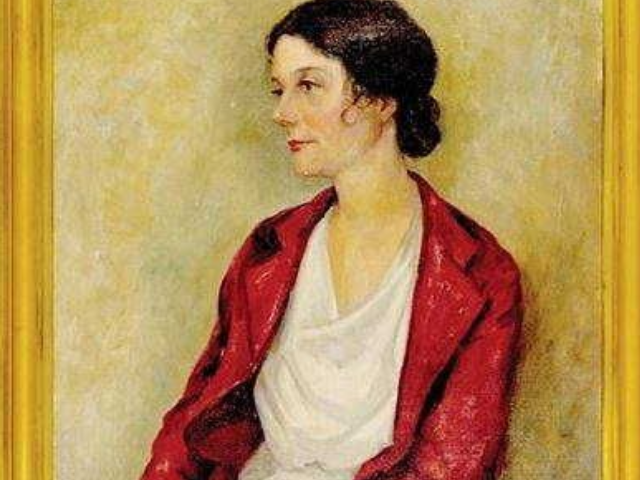 Katherine Drayton Mayrant Simons. Image uploaded by Find a Grave user Deesign.
(1890-1969) Katherine Drayton Mayrant Simons was born in Charleston, SC, the daughter of Sedgewick Lewis Simons and Katherine Drayton Mayrant. She was educated at local schools and at Converse College in Spartanburg, where she earned a bachelor of letters degree. 
Interested in literary pursuits since girlhood, Simons began writing seriously while in college. Her primary love was poetry, with a focus on lyrical verse, sonnets, and nature poems. The first of her three books of poetry, Shadow Songs, appeared in 1912 under the pen name "Kadra Maysi" (created from the first few letters of each unit of her full name). A decade later she became a charter member of the Poetry Society of South Carolina. She would go on to win every award given by the Poetry Society, and at the time of her death she was the only woman ever to have been elected its president. Her other books of poetry were The Patteran (1925) and White Horse Leaping, which the University of South Carolina Press published in 1951.
Simons later created a national reputation for herself in the field of fiction. Her serious interests in travel, the equestrian arts, and South Carolina history are reflected in the eight historical (sometimes labeled "romantic" or "dramatic") novels she published under the pseudonym "Drayton Mayrant" between 1948 and 1960: A Sword from Galway (1948), The Running Thread (1949), First the Blade (1950), Courage Is Not Given (1952), The Red Doe (1953), Always a River (1956), Lamp in Jerusalem (1957), and The Land beyond the Tempest (1960). 
Simons also wrote or cowrote five plays and a sketch for the ballet The Lost Atlantis, which was presented by the Charleston Civic Ballet Company in 1964. Furthermore, she wrote many articles or essays for newspapers and magazines. Between 1955 and 1967 she contributed regularly to the popular onomastic journal Names in South Carolina. Two small non-fiction books attest to her love for Charleston and the Summerville area: Roads of Romance and Historic Spots near Summerville (1925) and Stories of Charleston Harbor (1930).
Simons was buried in Magnolia Cemetery in Charleston. In 1997 she was inducted into the South Carolina Academy of Authors.