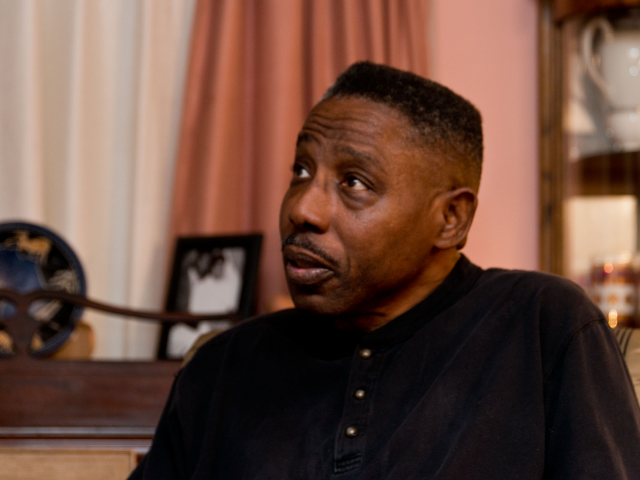 Larry Lebby. Image from The South Carolina Oral History Collection.
(1950 - 2019)  Lebby was born in Dixiana, South Carolina, to Irene Barbara Johnson Lebby and Edward Emerson Lebby, Jr.  The segregated schools that he attended could not afford qualified art teachers, and he did not receive formal training until he was able to move to an integrated school. He developed and honed his artistic skills at Allen University in Columbia and the University of South Carolina, earning a BA in 1973 and a Master of Fine Arts degree in 1976.
As a youth, he entertained himself by drawing in the sand. Later, he crafted a finely detailed portrait of the former United States president Jimmy Carter using a ballpoint pen. He has also worked in such unorthodox mediums as Worcestershire sauce, tea, and berry juice. Lebby boiled the berries of his choice, added vinegar, then brushed on the hue as he would a watercolor. 
Lebby persisted with his experiments until he perfected his unique style. He also worked in more conventional media such as watercolors, oils, acrylics, and lithographs. Lebby's southern roots are evident in many of his works, especially his paintings of the people, the architecture, and the landscape of his native South Carolina. His work has been displayed throughout the United States in places such as the White House, the Smithsonian Institue, the United Nations, and the United States Senate. In 1989, his work was displayed at the Vatican in Rome. His portraits of the noted South Carolina educator and theologian Dr. Benjamin Mays and the outstanding civil rights advocate Modjeska Simpkins hangs in the South Carolina State House. Exposing young people to the cultural wealth and diversity of the United States was very important to Lebby. He believed that schools must provide the facilities, supplies, and instructors to teach and motivate young minds. Lebby was affiliated with the United Negro College Fund Action Committee. He also served on the board of the South Carolina National Diabetic Association, the South Carolina Arts Commission, and the Governor's Task Force for the Arts.