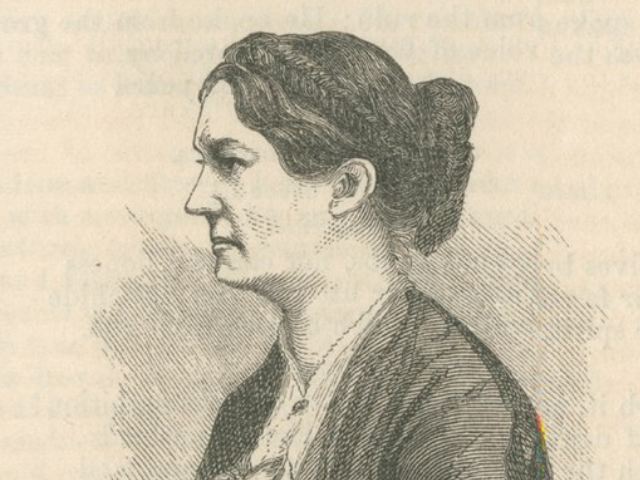 Louisa McCord (1810-1879), essayist. Wikimedia Commons.
(1810-1879)  Born in Charleston, Louisa McCord was the daughter of Langdon Cheves and Mary Dulles. Her father's career as state attorney general, congressman, and president of the Bank of the United States took the family from Charleston and Columbia to Washington, D.C., and Pennsylvania. As a result, McCord grew up among the political and social elite of the young nation, exposed to both slave and free labor and rural and urban environments. Although her formal education consisted solely of Philadelphia boarding schools, her later writings suggest the veracity of the family legend that her father allowed McCord to study with her brothers as they prepared for college.
After the death of her mother, McCord became the de facto mistress of her father's households in South Carolina of several rice and cotton plantations. McCord had inherited fifty slaves from her grandmother Sophia Dulles in 1830. Just before her wedding to David James McCord on May 20, 1840, Louisa's father presented her with the cotton plantation Lang Syne, located in Orangeburg District. This plantation remained in her name throughout her fifteen-year marriage to David McCord, and she would pass the property on to her son-in-law Augustus Smythe upon his marriage to her daughter Louisa in 1865.
The years between the birth of her third child and the death of her husband (1845–1854) proved most prolific for Louisa McCord's writing.  McCord published essays in which she synthesized contemporary thought on the defense of slavery, women's subordination, and political economy. She believed that African Americans constituted a natural working class and that slavery acted as a means of maintaining social order. White women, while intellectually equal to white men, were forced to subordinate themselves within a social hierarchy due to their physical inferiority to white men, whom she believed possessed both the intellect and the physical prowess required to maintain a peaceful society. She warned that abolitionists and the emerging woman's rights movement exposed the nation to unrestrained violence from the working classes, specifically to the threat of slave rebellion. 
Her poetry suggests an intellectually ambitious young woman struggling to accept her place in the social order that she described in her essays. Her play, Caius Gracchus (1851), is the dramatic culmination of those ideas in the depiction of a stoic mother sacrificing her personal happiness and children for the greater good of republicanism. Little did she guess as she wrote the play that she would find herself in an almost identical position ten years later.
During the Civil War, McCord cast herself as a mother of the Confederacy. McCord became matron of the Confederate hospital set up on the grounds of South Carolina College, and she donated crops, livestock, and uniforms to South Carolina troops. Her greatest sacrifice to the war, however, was her only son, Langdon Cheves McCord, who died as a result of head injuries received at the Second Battle of Manassas in 1862. She witnessed the Union invasion of South Carolina, during which General Oliver O. Howard occupied her home. His temporary residence possibly saved the house from destruction in the 1865 Columbia fire and placed McCord in a position to negotiate on behalf of the white women remaining in the city. Throughout the ordeal, women of her class noted her strength and resilience with awe and admiration.
Although she became the head of the South Carolina Monument Association after the war, the conflict's losses and changes so depressed McCord that she went into a self-imposed exile from South Carolina during the years 1870–1874. When she returned to South Carolina, moving into the Charleston residence of her daughter Louisa McCord Smythe.