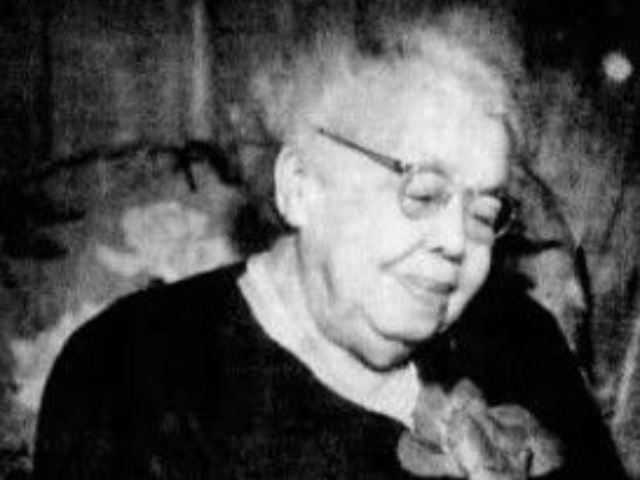 Marion Birnie Wilkinson. Image uploaded by Find a Grave user Jack Kane.
(1870-1956)  Wilkinson was born in Charleston, SC, to Richard Birnie and Anna Frost. Both of her parents were descendants of antebellum free black families and members of Charleston's black elite. She attended the Avery Normal Institute then taught at the institute for nine years. On June 29, 1897, she married Robert Shaw Wilkinson, the second president of the South Carolina Colored Normal, Industrial, Agricultural, and Mechanical College.
From an early age Wilkinson was interested in social reform efforts in South Carolina and encouraged educated, middle-class African American women to share their knowledge and material resources with those less fortunate. While at South Carolina State, she served as chief Young Women's Christian Association (YWCA) adviser and headed the boarding department. By 1928 her leadership had resulted in the construction of the only YWCA building on a historically African American college campus. Wilkinson also served on the South Carolina Interracial Commission, the county executive committee of the Red Cross, and the board of trustees of Voorhees Institute in Denmark. To further facilitate her reform efforts, she was a charter member and president of the South Carolina Federation of Colored Women's Clubs (SCFCWC). Organized in 1909, the SCFCWC became a vehicle by which black women could use their knowledge and skills to improve social and racial conditions. She was also a trustee of the Marion Birnie Wilkinson Home for Girls in Cayce, created to house destitute young black girls. Wilkinson founded the Sunlight Club in Orangeburg in addition to organizing the first Rosenwald School in South Carolina to help improve educational facilities for African Americans.
During World War I, she and other black club women organized recreation centers for black soldiers. She advised the Hoover administration on child welfare programs and helped establish a Works Progress Administration training school and nursery. Wilkinson was also the third president of the National Association of Colored Women's Clubs, which was founded in 1896 and spearheaded the national black women's club movement. Known by the students at South Carolina State as "Mother Wilkinson," she encapsulated the efforts of educated, middle-class black women for social and racial reform.