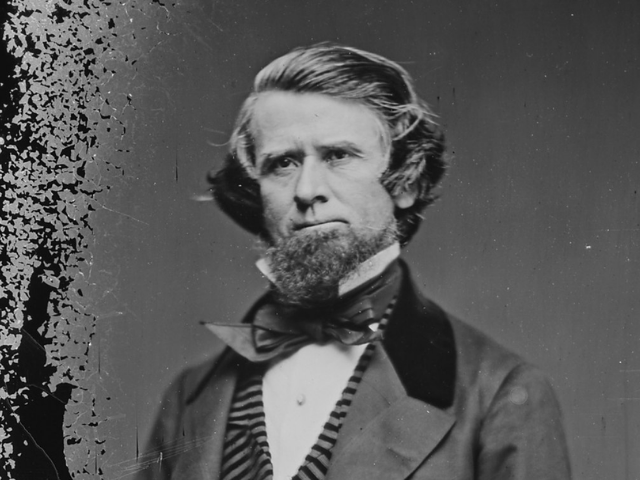 Hon. Milledge L. Bonham, S.C. between c. 1860 - c. 1865. Photographed by Mathew Benjamin Brady. U.S. National Archives and Records Administration.
(1813-1890)  Born in Edgefield District near the present town of Saluda to James Bonham and Sophie Butler Smith. He attended local academies in Edgefield and entered South Carolina College in 1833. After graduating in 1834, he returned home to manage the family plantations and study law. He volunteered for the Seminole War in 1836 and was a staff officer.
Admitted to the bar in 1837, Bonham gained prominence as an attorney and militia officer. By 1843 Bonham had been elected a major general in the state militia, a position he held until 1852. Between 1840 and 1843 he served in the S.C. House of Representatives. On November 13, 1845, he married Ann Patience Griffin and they had fourteen children. Appointed a lieutenant colonel in the U.S. Army in 1847, Bonham saw action in Mexico.  He was promoted to colonel and served as an occupational governor until being mustered out on July 25, 1848. 
Bonham was elected solicitor of the state's southern circuit in 1848. He held this position until elected to the U.S. House of Representatives in 1857.  He supported the admission of Kansas as a slave state and opposed the Morrill Bill, which would have used federal funds to support land-grant colleges in the states. Following South Carolina's secession in 1860, Bonham withdrew from Congress and was appointed commander in chief of the South Carolina army with the rank of major general.  He agreed to serve under General P. G. T. Beauregard during the Fort Sumter crisis and received an appointment as brigadier general in the Confederate army and led the first brigade of South Carolina troops to Virginia. Although commended for his actions during the First Battle of Manassas, Bonham resigned his commission in January 1862 over questions of seniority.
Elected to the Confederate Congress in the fall of 1861, Bonham generally opposed the administration of Jefferson Davis. He was elected to governor in 1862 and sought to strengthen state laws on conscription, slave impressments, and desertion, taking positions more in support of the Confederate government. The constant military threat against the state during his term compelled regular militia reorganizations and ardent appeals for veteran Confederate troops for coastal defenses.
Bonham left office at the end of 1864 and received a brigadier general commission on February 9, 1865. However, he was unable to take the field before the war ended. He  served in the S.C. House of Representatives from 1865 until 1866. A member of the Taxpayer's Convention in 1871, Bonham was a strong supporter of Wade Hampton's campaign for governor in 1876. He became South Carolina's first railroad commissioner in 1878 and worked to strengthen the powers of the commission. He is buried in Elmwood Cemetery, Columbia.