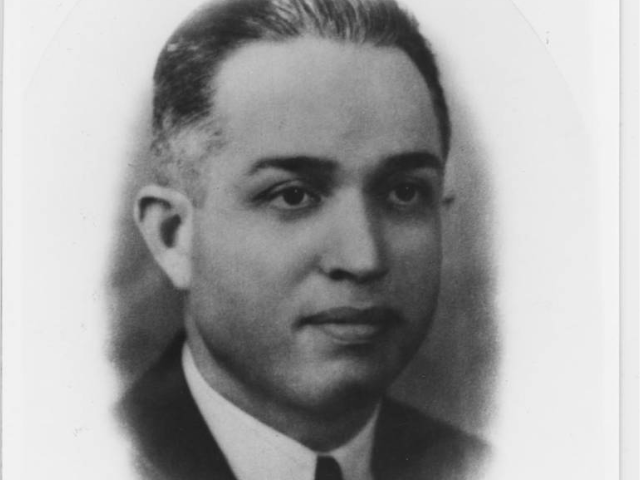 Dr. Miller F. Whittaker, President. The South Carolina State Historical Collection & Archives.
(1892-1949)  Whittaker was born in Sumter, the son of Johnson Chesnut Whittaker and Page Harrison Whittaker. He attended school in Sumter and at the academy of the Colored Normal, Industrial, Agricultural, and Mechanical College of South Carolina in Orangeburg, where his father had joined the faculty in 1900. In 1908 the family moved to Oklahoma City, where Whittaker graduated from Douglass High School in 1909. He earned a bachelor's degree in architecture from Kansas State College in 1913.
That year Whittaker joined the faculty of Colored Normal, Industrial, Agricultural, and Mechanical College (which later became South Carolina State University) and taught mechanical drawing and physics. During World War I, Whittaker served as a second lieutenant with the 371st and 368th infantry regiments of the all-black 92d Division. In 1925 he became dean of the mechanical arts program at the college, but he devoted much time to architecture. He designed several campus buildings and supervised student labor in their construction. In 1928 Kansas State College awarded Whittaker a professional degree in architecture.
Whittaker was named the third president of South Carolina State College in 1932. He guided the college through the Depression. Faculty salaries were slashed by one-third, and for a time there were doubts that the state could meet the college payroll. Enrollment declined to less than one thousand, and the high school program was terminated. With the assistance of New Deal programs, the financial support of the Rockefeller-sponsored General Education Board, and a 1937 state bond issue, two academic buildings and a dormitory were erected. Following World War II, enrollments surged and more than fourteen hundred students were admitted, including five hundred veterans. Another five hundred were rejected because of lack of space.
With the onset of the civil rights movement, Whittaker found himself caught between state officials defending segregation and a black community increasingly insistent on dismantling Jim Crowism. John Wrighten, an Army Air Force veteran and a graduate of South Carolina State, applied for admission to the University of South Carolina Law School and was rejected because of his race. However, with the assistance of Thurgood Marshall and the NAACP, Wrighten sued the university. Whittaker was called to testify in federal court in 1947. Marshall bluntly asked Whittaker if the proposed law school in Orangeburg would be equal to that of the university. Whittaker replied, "I don't think so." Wrighten lost the suit, and Whittaker supervised the creation of the new black law school.
His last project was the Orangeburg Lutheran Church, which was completed in 1950.