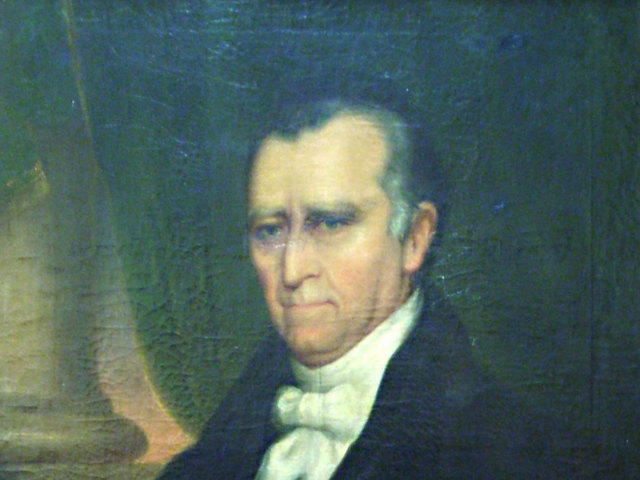 Moses Waddel painting which is on display at entrace to Peabody Board Room, Administration Building, University of Georgia in Athens. Wikimedia Commons.
(1770-1840)  Born in North Carolina to William and Sarah Morrow Waddel.  He taught in various Georgia schools until Presbyterian missionaries awakened his interest and he decided to enter the ministry.  He received his license to preach and moved to preach to the people of James Island, John's Island, Wadmalaw Island, and Dorchester and eventually accepted the call to a charge in Georgia.
Waddel missed teaching and moved to Abbeville where he opened a school and continued his preaching ministry. He later moved the school to McCormick County and began an academy for boys that became one of the better-known institutions of the antebellum South. The curriculum was heavily weighted in favor of the classics and known for its quality instruction.  Four future governors were graduates of Waddel's school: John C. Calhoun, A. B. Longstreet, George McDuffie, and Patrick Noble.
Waddel was elected president of the University of Georgia where his administration was marked by a greatly improved financial position for the university and a substantial increase in student enrollment.  After retiring, Waddel returned to McCormick County but suffered a stroke and returned to live with his son where he died.  Waddel was married to Catherine Calhoun who lived for only a year after their marriage.  He then married Eliza Woodson Pleasants and was the parents of six children.