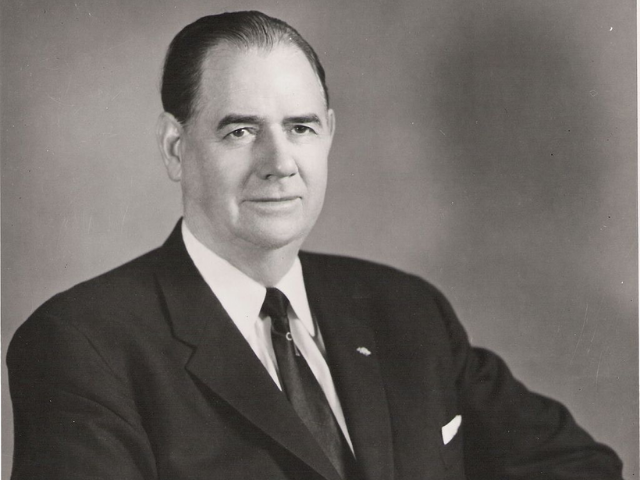 A seated portrait of Olin D. Johnston, former Governor and Senator from South Carolina. South Carolina Political Collections at the University of South Carolina.
(1896 –1965) Olin Johnston was born in Anderson Co., the son of Ed and Leila Johnston. Johnson saw himself as a "mill boy," and at age fourteen he knew then he would be governor of South Carolina. He was elected twice to the governor's office and four times to the U.S. Senate.
Johnston served in the U.S. Army and afterwards earned his degree at Wofford and then attended the University of South Carolina and earned his law degree.  He married Gladys Elizabeth Atkinson and they had three children.
Johnston practiced law in Spartanburg.  During his term as governor, Johnson started the rural electrification program, spearheaded the passage of the state's first workers' compensation act and established the state's first department of labor.  When he was elected to the U. S. Senate, he served on the Agriculture and Forestry, District of Columbia, Judiciary Committees, and was elected chair of the patronage-rich Post Office and Civil Service Committee. Using his access to government funds, he made sure towns across South Carolina had new post offices, earning him the nickname "Mr. Civil Service" because of his tireless devotion to federal employees.
Johnston is buried in Anderson Co.